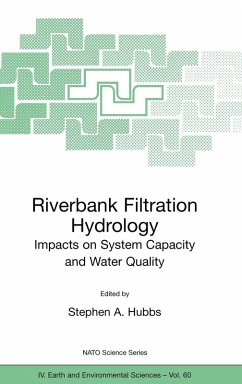 Andere Kunden interessierten sich
auch
für


Topics covered include surface stream hydrology, particle clogging, and biological/geochemical processes. Data and case histories are provided from dozens of installations, providing much-needed practical information regarding RBF design, operation, and performance.

This book provides the necessary tools to evaluate potential RBF sites, and is a must-have if you are considering RBF as a source of water supply.


Produktdetails
Nato Science Series: IV: 60
Verlag: Springer / Springer Netherlands
Erscheinungstermin: 16. Januar 2006
Englisch
Abmessung: 249mm x 167mm x 25mm
Gewicht: 680g
ISBN-13: 9781402039362
ISBN-10: 1402039360
Artikelnr.: 22257683
Dedication. Contributing Authors. Acknowledgments. Preface.1. Significance of Hydrologic Aspects on RBF Performance; J. Schubert.2. Evaluating Streambed Forces Impacting the Capacity of Riverbed Filtration Systems; S.A. Hubbs.3. Impact of Riverbed Clogging on Ground Water; I. Mucha et al.4. New Approaches for Estimating Streambed Infiltration Rates; W. Macheleidt et al.5. Bioclogging in Porous Media: Tracer Studies; P. Engesgaard et al.6. Riverbank Filtration in the Netherlands: Well Fields, Clogging and Geochemical Reactions; P.J. Stuyfzand.7. Clogging-Induced Flow and Chemical Transport Simulation in Riverbank Filtration Systems; C. Ray and H. Prommer.8. Use of Aquifer Testing and Groundwater Modeling to Evaluate Aquifer/River Hydraulics at Louisville Water Company, Louisville, Kentucky, USA; D.C. Schafer.9. Changes in Riverbed Conductivity and Specific Capacity at Louisville; S.A. Hubbs.10. Experience with Riverbed Clogging Along the Rhine River; J. Schubert.11. Heat as a Groundwater Tracer at the Russian River RBF Facility, Sonoma California; J. Constantz et al.12. Monitoring clogging after start-up of a RBF-system at the River Enns, Austria; B. Wett.13. Managing Resources in a European Semi-Arid Environment: Combined Use of Surface and Groundwater for Drinking Water Production in the Barcelona Metropolitan Area; J. Martin-Alonso.14. Presentation of Data for Factors Significant to the Yield from Several Riverbank Filtration Systems in the U.S. and Europe; T.G. Caldwell.Index.