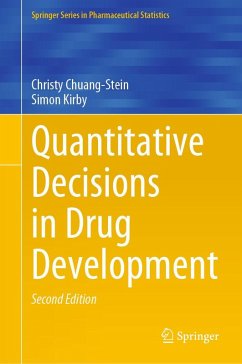 Andere Kunden interessierten sich
auch
für


The second edition reiterates the need for making evidence-based Go/No Go decisions in drug development discussed in the first edition. It substantially expands several topics that have seen great advances since the publication of the first edition. The most noticeable additions include three adaptive trials conducted in recent years that offer excellent learning opportunities, the use of historical data in the design and analysis of clinical trials, and extending decision criteria to the cases when the primary endpoint is binary. The examples used to illustrate the additional materials all come from real trials with some post-trial reflections offered by the authors.

The book begins with an overview of product development and regulatory approval pathways. It then discusses how to incorporate prior knowledge into study design and decision making at different stages of drug development. Prior knowledge includes information pertaining to historical controls. To assist decision making, the book discusses appropriate metrics and the formulation of go/no-go decisions for progressing a drug candidate to the next development stage. Using the concept of the positive predictive value in the field of diagnostics, the book leads readers to the assessment of the probability that an investigational product is effective given positive study outcomes. Lastly, the book points out common mistakes made by drug developers under the current drug-development paradigm.

The book offers useful insights to statisticians, clinicians, regulatory affairs managers and decision-makers in the pharmaceutical industry who have a basic understanding of the drug-development process and the clinical trials conducted to support drug-marketing authorization. The authors provide software codes for select analytical approaches discussed in the book. The book includes enough technical details to allow statisticians to replicate the quantitative illustrations so that they can generate information to facilitate decision-making themselves.


Produktdetails
Springer Series in Pharmaceutical Statistics
Verlag: Springer / Springer, Berlin
Artikelnr. des Verlages: 978-3-030-79730-0
2. Aufl.
Seitenzahl: 364
Erscheinungstermin: 4. September 2021
Englisch
Abmessung: 241mm x 160mm x 25mm
Gewicht: 711g
ISBN-13: 9783030797300
ISBN-10: 3030797309
Artikelnr.: 61942622
Chapter 1 - Clinical Testing of a New DrugChapter 2 - A Frequentist Decision-making Framework Chapter 3 - Characteristics of a Diagnostic TestChapter 4 - The Parallel Between Clinical Trials and Diagnostic Tests Chapter 5 - Incorporating Information from Completed Trials in Future Trial Planning Chapter 6 - Choosing Metrics Appropriate for Different Stages of Drug Development Chapter 7 - Designing Proof-of-Concept Trials with Desired CharacteristicsChapter 8 - Designing Dose-response Studies with Desired CharacteristicsChapter 9 - Designing Confirmatory Trials with Desired CharacteristicsChapter 10 - Designing Phase 4 TrialsChapter 11 - Other Metrics That Have Been Proposed to Optimize Drug Development Decisions Chapter 12 - Discounting Prior Results to Account for Selection BiasChapter 13 - Adaptive DesignsChapter 14 - Additional Topics.