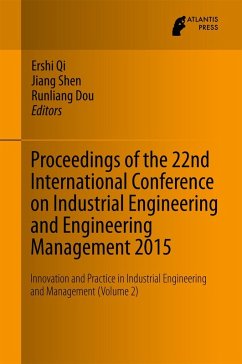 Produktdetails
Artikelnr. des Verlages: 978-94-6239-176-5
1st ed. 2016
Seitenzahl: 904
Erscheinungstermin: 6. Februar 2016
Englisch
Abmessung: 241mm x 160mm x 53mm
ISBN-13: 9789462391765
ISBN-10: 9462391769
Artikelnr.: 44169214
A Comparative Study on Retailer's Refunding Strategies Considering Products Advance Selling.- Research on the Monopolist' Repurchase and Remanufacture Decisions Based on Heterogeneous Consumer Considering Buy-back Cost.- Study on the Exchange Rate Risk of China International Construction Enterprises.- Technology Diffusion and Acquisition Premium in M&A.- Coordinated Development Degree of County Socio-economic System Prediction Based on GA-SVM.- Quality Safety Risk Analysis on Children's Car Safety Seat.- Coupling Relationship Analysis of Economic Growth and Environmental Pollution in Western Region.- The dynamic analysis of R&D competition behavior of a duopoly under the condition of different expectations.- Strategic Human Capital in Organization: Frontier Review, Prospective Commentary, and Guiding Framework.- Research on the Effects of the Fixed Asset Investment on the Non-performing Loans Ratio.- Research on Real-time cost control in factory in IT environment.