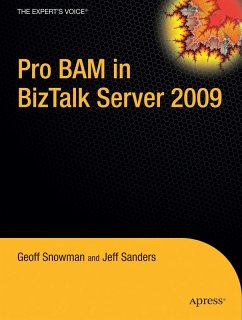 Andere Kunden interessierten sich
auch
für
Pro Business Activity Monitoring in BizTalk 2009
focuses on Microsoft's BAM tools, which provide a flexible infrastructure that captures data from Windows Communication Foundation, Windows Workflow Foundation, .NET applications, and BizTalk Server.
This book shows why BAM is an important component of any business intelligence strategy because it bridges the gap between business intelligence and business process management.
Part One of the book covers the basics of BAM. It teaches you how to install BAM, and then it leads you through a complete but simple project to capture data from a WCF service
Part Two of the book describes the BAM tool set. It shows you how to define the data that is captured by BAM, wire up a BizTalk application for BAM, and view BAM data using the BAM Portal
Part Three of the book focuses on monitoring applications written in WCF or WF. It also shows you how to use the BAM API
Part Four of the book covers advanced topics in BAM. These topics include integrating BAM with Microsoft's BI stack, creating relationships between BAM activities, managing BAM servers, and monitoring BizTalk applications using BAM
This book contains numerous exercises to help you learn BAM. Source code for the samples is available from Apress.com.
For many CIOs, business intelligence is at the top of their priority lists. Learn why with
Pro Business Activity Monitoring in BizTalk 2009.
Produktdetails
The Expert's Voice in BizTalk
Verlag: Apress
1st ed.
Seitenzahl: 388
Erscheinungstermin: 21. Juli 2009
Englisch
Abmessung: 235mm x 178mm x 20mm
Gewicht: 598g
ISBN-13: 9781430219149
ISBN-10: 1430219149
Artikelnr.: 26016495
Welcome to Business Activity Monitoring! Installing and Configuring BAM Your First BAM Project Where BAM Fits in Your Business The BAM Observation Model The Tracking Profile Editor Consuming BAM Data and the BAM Portal Capturing Data from WCF Capturing Data from WF The BAM API BAM and Business Intelligence Relationship Advice Managing BAM Monitoring BizTalk Status Using Building Better BAM