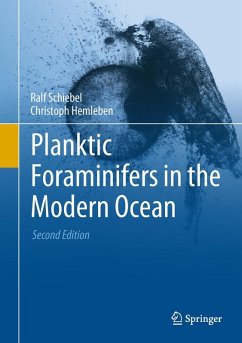 Produktdetails
Artikelnr. des Verlages: 978-3-662-50295-2
2. Aufl.
Erscheinungstermin: 24. Februar 2017
Englisch
Abmessung: 261mm x 179mm x 30mm
Gewicht: 840g
ISBN-13: 9783662502952
ISBN-10: 366250295X
Artikelnr.: 44736698
Species Classification, Test Architecture, Shell Ontogeny, Species Phylogeny.- Sampling Methods and Faunal Analysis.- Cultivation.- Biology, Cellular Ultrastructure, Host Symbiont Relationships, Trophic Activity and Nutrition, Reproduction.- Molecular Genetics in Modern Species.- Ecology.- Stable Isotopes - Paleoceanography.- Element Ratios.- Sedimentation and Preservation of Tests.- Applications.
"This is an excellent state-of-the-art book containing a wealth of information attractively presented in well-written text and high quality plates and diagrams. As knowledge of modern processes is essential to the interpretation of the fossil record this book will be essential reading for biologists and geologists undertaking research on planktic foraminifera." (John Murray, Newsletter of Micropaleontology, Issue 96, October, 2017)