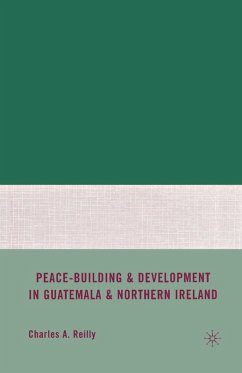 Produktdetails
Verlag: PALGRAVE / Palgrave Macmillan US
2009
Seitenzahl: 220
Erscheinungstermin: Januar 2009
Englisch
ISBN-13: 9781349376681
ISBN-10: 134937668X
Artikelnr.: 45077421
Introduction: 'Easier Signed Than Done' Peace and its Delayed Dividends Fatigue, Not Fraternity in Guatemala Development From Below? Elusive Equity and Security in Northern Ireland Getting to Yes in NI Conclusion: When will 'Hope and History Rhyme'?
"Comparisons between contemporary peace processes are thin on the ground, and most of them deal with broad patterns of peacemaking. Charles Reilly's treatment of the peace processes in Guatemala and Northern Ireland is a welcome departure, and his focus on peace-building and development in these two places is well conceived and executed. The result is a scholarly analysis with strong and practical proposals. It will be a valuable guide for both practitioners and academics." - John Darby, Notre Dame University and University of Ulster

"Few monographs with which I am familiar have explored so well the role of religions, local governments, policing, civil society organizations, migration and education - and the lessons they can teach on how to make peace work and enhance human opportunity. Few make so explicit the overlap between state, markets and civil society in generating public and private policy for the common good." - Angeliki Kanavou, Assistant Professor of Political Science and Peace Studies, Chapman University, Orange, California.

"Charles Reilly presents an excellent illustration of NorthernIreland and Guatemalan peace building processes in a comparative context. The volume is highly recommended to those who seek to understand the empowering role of civil society in bringing justiceand harmony to deeply divided societies." - Ho-Won Jeong, George Mason University, Fairfax, Virginia

"The author reminds us that no peace agreement should be reduced to just a ceasefire. The future perspective of every peace accord requires that peace and social security be made possible with human development across generations." - Carlos Escobar Armas, ASIES, Guatemala