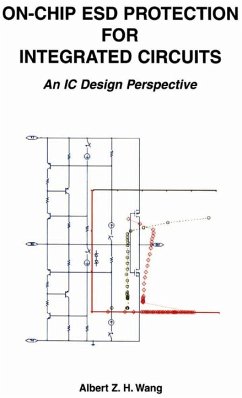 Andere Kunden interessierten sich
auch
für

Testing models and standards adopted by U.S. Department of Defense, EIA/JEDEC, ESD Association, Automotive Electronics Council, International Electrotechnical Commission, etc.
ESD failure analysis, protection devices, and protection of sub-circuits
Whole-chip ESD protection and ESD-to-circuit interactions
Advanced low-parasitic compact ESD protection structures for RF and mixed-signal IC's
Mixed-mode ESD simulation-design methodologies for design prediction ESD-to-circuit interactions, and more! Many real world ESD protection circuit design examples are provided. The book can be used as a reference book for working IC designers and as a textbook for students in the IC design field.
Produktdetails
The Springer International Series in Engineering and Computer Science Vol.663
Verlag: Springer, Berlin
2002
Seitenzahl: 324
Erscheinungstermin: 31. Januar 2002
Englisch
Abmessung: 241mm x 160mm x 22mm
Gewicht: 630g
ISBN-13: 9780792376477
ISBN-10: 0792376471
Artikelnr.: 21249903
Dedication. Acknowledgements. Preface.
1. Introduction.
2. ESD Test Models.
3. ESD Protection Device Solutions.
4. ESD Protection Circuit Solutions.
5. Advanced ESD Protection; Mixed-Signal, RF and Whole-Chip ESD Protection.
6. ESD Failure Analysis and Modeling.
7. Layout and Technology Influences on ESD Protection Circuit Design.
8. ESD Simulation-Design Methodologies.
9. ESD - Circuit Interactions.
10. Conclusion Remarks and Future Work.
Appendix A: Summary for ESD Test Standards. References.
Appendix B: Commercial ESD Testing Systems.
Appendix C: ESD Protection Circuit Design Checklist.
Index.