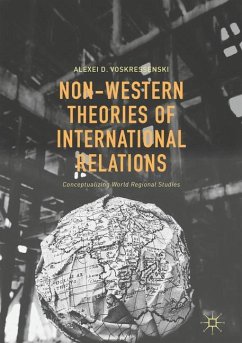 Andere Kunden interessierten sich
auch
für


World Regional Studies explains the emergence of new phenomena in international relations and world politics on a regional and predominantly non-Western regional level. How do non-Western societies react to the transformations of the global order? Is a non-Western democracy possible? Should we discuss the possibilities for the appearance of a non-Western IR theory or a new framework for analyzing de-westernized global development?

This study, based on decade-long research and teaching post in World Regional Studies at MGIMO-University and Russian University of Humanitarian Studies (RGGU), seeks to answers these questions.


Produktdetails
Artikelnr. des Verlages: 978-3-319-33737-1
1st ed. 2017
Erscheinungstermin: Januar 2017
Englisch
Abmessung: 216mm x 153mm x 20mm
Gewicht: 513g
ISBN-13: 9783319337371
ISBN-10: 3319337378
Artikelnr.: 44769673
Introduction.- Chapter 1: Challenges to the existing IR system and how they are seen in the IR literature in Western and non-Western segments of the world.- Chapter 2: From the hegemonic unipolar to the multipolar world: structural transformation of the international system and global strategic balance, plus its consequences for the future.- Chapter 3: Appraising the theory of non-Western IR and the other options available.- Chapter 4: What is missing in the Western IR theories: space as a core dimension in World Regional Studies.- Chapter 5: Transformation of the space (1): macro-regionalization and new spatial actors of international relations: international / world / global regions.- Chapter 6: Transformation of the space (2): differentiation within the world space and its consequences for conceptualizing a de-Westernized IR.- Chapter 7: Integration of the space in a complex glocality.- Chapter 8: Fusion of past and future in the space of global regions and regional sub-systems of converging multiple modernities.


---