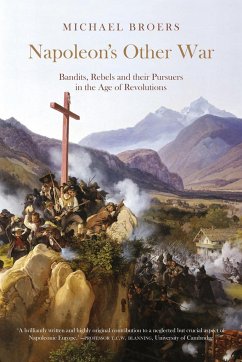 Andere Kunden interessierten sich
auch
für
guerrilla (the term was born in these years) - and bigger ones, where whole provinces rose up in arms. Bandits often stood at the centre of these «dirty wars» of ambushes, night raids, living hard in tough terrain, of plunder, rapine and early, violent death, which spread across the whole western world from Constantinople to Chile. Everywhere, they threw up unlikely characters - ordinary men who emerged as leaders, bandits who became presidents, priests who became warriors, lawyers who became murdering criminals. In studying these varying fortunes, Michael Broers provides an insight into a lost world of peasant life, a world Napoleon did so much to sweep away.


Produktdetails
Artikelnr. des Verlages: 16510
Seitenzahl: 256
Erscheinungstermin: 29. Dezember 2017
Englisch
Abmessung: 225mm x 150mm x 13mm
Gewicht: 380g
ISBN-13: 9781906165109
ISBN-10: 1906165106
Artikelnr.: 50239692
CONTENTS: The Way Things Were: Bandits before the French Revolution - The Cradle of Disorder: France from Revolution to Civil War - The War behind the Lines: Taming Napoleonic Europe - The Bandit-chasers of Napoleonic Europe - Spain: The Birth of the Guerrilla. The Bandits' War? - Spanish America: A Hemisphere of Brigandage - The Balkans: The Bandits' Paradise - The People's Heroes: The Legacy of the Bandits - Conclusion: Bandits and the New Order.