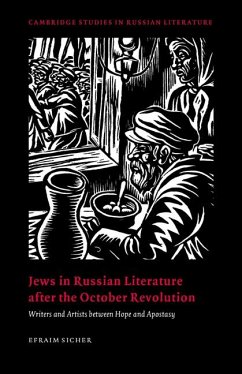 Andere Kunden interessierten sich
auch
für


This work is an innovative and controversial study of how four famous Jews writing in Russian in the early Soviet period attempted to resolve the conflict between their cultural identity and their place in Revolutionary Russia. Babel, Mandelstam, Pasternak and Ehrenburg struggled in very different ways to form creative selves out of the contradictions of origins, outlook, and social or ideological pressures. Efraim Sicher also explores the broader context of the literature and art of the Jewish avant-garde in the years immediately preceding and following the Russian Revolution. By comparing literary texts and the visual arts the author reveals unexpected correspondences in the response to political and cultural change. This study contributes to our knowledge of an important aspect of modern Russian writing and will be of interest to both Jewish scholars and those concerned with Slavonic studies.

Review quote:
"Sicher's erudition and analysis of the visual arts are excellent....In summarizing the arguments and reconsidering them from the viewpoint of these writers' Jewish identity, Sicher has done a valuable service. For those who know a lot about Russian-Jewish literature, but even for novices, this book is well woth reading."
Nationalities Papers

Table of contents:
List of illustrations; Preface; 1. Burning embers; 2. Modernist responses to war and revolution: the Jewish Jesus; 3. The Jewishness of Babel; 4. The 'colour' of Judaism: Osip Mandelstam's Noise of Time; 5. The Father, the Son and holy Russia: Boris Pasternak, Hermann Cohen and the religion of Doctor Zhivago; 6. Ilia Ehrenburg: the eternal chameleon; Epilogue: hope betrayed; Notes; Index.