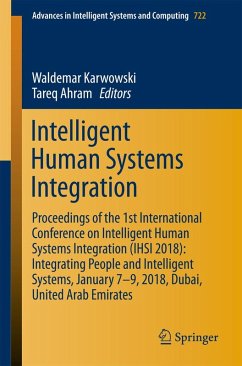 Andere Kunden interessierten sich
auch
für

Based on the proceedings of the 1st International Conference on Intelligent Human Systems Integration (IHSI 2018), held on January 7-9, 2018, in Dubai, United Arab Emirates, the book also examines the forces that are currently shaping the nature of computing and cognitive systems, such as the need for decreasing hardware costs; the importance of infusing intelligence and automation, and the related trend toward hardware miniaturization and power reduction; the necessity for a better assimilation of computation in the environment; and the social concerns regarding access to computers and systems for people with special needs. It offers a timely survey and a practice-oriented reference guide to policy- and decision-makers, human factors engineers, systems developers and users alike.


Produktdetails
Advances in Intelligent Systems and Computing 722
Verlag: Springer / Springer, Berlin
Artikelnr. des Verlages: 978-3-319-73887-1
1st ed. 2018
Seitenzahl: 800
Erscheinungstermin: 10. Januar 2018
Englisch
Abmessung: 235mm x 155mm x 42mm
Gewicht: 1200g
ISBN-13: 9783319738871
ISBN-10: 3319738879
Artikelnr.: 50251362
A design and description method for human-autonomy teaming systems.- External HMIs and their effect on the interaction between pedestrians and automated vehicles.- Study on estimation of driver's state during automatic driving using seat pressure.- Reactive operation: A framework for event driven low voltage grid operation.- Development of an active upper limb orthosis controlled by EMG with upper arm rotation.- Integration of cognitive cybernetics into intelligent human systems.