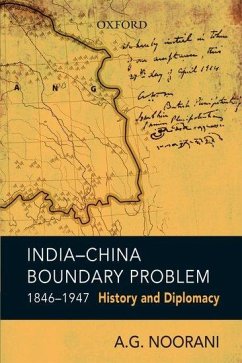 Produktdetails
Verlag: OXFORD UNIV PR
Seitenzahl: 360
Erscheinungstermin: Mai 2011
Englisch
Abmessung: 216mm x 145mm x 30mm
Gewicht: 544g
ISBN-13: 9780198070689
ISBN-10: 0198070683
Artikelnr.: 33252047
Preface
Introduction
Chapter 1. The Genesis
Chapter 2. Defining Ladakhs Boundaries
Chapter 3. Search for a Linear Boundary
Chapter 4. Two Schools on the Boundary
Chapter 5. Reference to London
Chapter 6. Hunza
Chapter 7. Evolving A Boundary
Chapter 8. The 1899 Offer to China
Chapter 9. The Aftermath of the 1899 offer
Chapter 10. The McMahon Line
Chapter 11. 15 August 1947: What India Inherited
Conclusion
Appendices 1. The LadakhTibet Treaty of 1842. 2. The Treaty of Lahore between the East India Company and the Sikh Darbar
9 March 1946. 3. The Treaty of Amritsar between the East India Company and Maharaja Gulab Singh of Jammu. 16 March, 1846. 4. Britains efforts to secure a boundary settlement with China, 18461848. 5. Vans Agnews Memorandum of 13 May 1847 on the boundary dated 28th July, 1847 to the East India Company on the Boundary Commission of 1847. 6. Convention between Britain and China defining the SikkimTibet boundary 1890. 6A.Chinas Note of 1894. 7. Lt. Col. Gores Note on the Aksai Chin dated 8 February, 1897. 8. Francis Younghusbands Note on the boundary between Hunza and Chinese Turkistan 1898. 9. Sir John Ardaghs Memorandum of 1 January 1897 on the Kuen Lun boundary. 10. India Rejects the Ardagh Line. The Governor-General Lord George F. Hamiltons Despatch to the Secretary of State for India on 23 December 1897. 11.The Governor-General Lord Elgin defines the proposed boundary to the Secretary of State for India on 27 October 1898. 12. Britain formally proposes a boundary to ChinaThe Ambassador Sir Claude Macdonalds Note to the Tsungli Yamen on 14 March 1899. 12A.Younghusbands Note on the Boundary between Hunza and Chinese Territory 1904. 13. Governor-General Lord Curzon to the Secretary of State for India. 26 January 1905. 14. Lord Curzon to the Secretary of State for India on 10 August 1905. 15. C. Kirkpatricks Note on the Aksai Chin, 30 March 1907.16. IndoTibetan Exchange of Notes 2425 March 1914 defining the McMahon Line.17. Convention between Britain and China and Tibet 3 July 1914. 18. Statement by Chinas Foreign Office Wai Chia pu on the proceedings in Simla, 1914. 19. Foreign Secretary Denys Brays letter to the India Office on the boundary, dated 7 September, 1917. 20. Chinas Memorandum of 30 May 1919 listing its objections to the Simla Convention 1914. 21. Nehrus Memorandum on May 1 July 1954 (Extracts). 22. Nehru-Zhon Correspondence 1959.