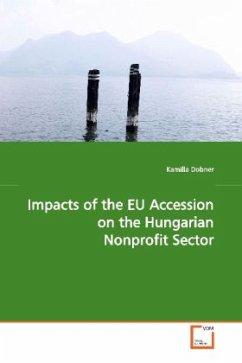 Andere Kunden interessierten sich
auch
für

mathematics, theories, etc. In order to change their
mind, these people should study the nonprofit sector.
Obviously, if we want to understand how this sector
operates, we have to study figures, but a significant
part of the areas connected to this sector cannot be
"measured" by numbers. When studying the voluntary
sector, we meet personal problems, personal needs,
different types of people from all parts of the life
with their hobbies and habits, communication at
citizen level, solidarity and, first of all, we feel
our personalresponsibility of the whole community.
This study tries to describe this multicoloured
sector in general and to compare its status before
and after Hungary''s entry to the European Union. To
understand better the topic, first we have to give a
short overview of the terminology issues, the
legalforms and major functions of the nonprofit
organizations, and the changes of the EU policy
towards the third sector. In the next part of the
thesis, we will summarize the history of the
voluntary organizations, the civil expectations
towards EU membership, including two interesting
scenarios about the effects of the EU accession on
the sector. The fastest and most tangible effect of
the accession is the possibility to participate in EU
tenders; therefore, the paper will emphasize this
part of the recent developments and study it in
detail. The concluding chapter tries to discuss areas
to develop and questions waiting for response.
Produktdetails
Verlag: VDM Verlag Dr. Müller
Seitenzahl: 56
Englisch
ISBN-13: 9783639012804
ISBN-10: 3639012801
Artikelnr.: 25665710