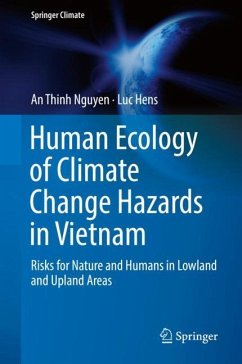 Andere Kunden interessierten sich
auch
für


The book is structured in four parts. The first part offers background information, and details the human ecological framework. The geography of the analyzed regions is discussed to reflect the environmental and socioeconomic context of Vietnam's coasts and mountains. The second part addresses the coast of Central Vietnam. The effects of tropical storms, floods, rising sea levels and coastal erosion in Ky Anh are studied to highlight the impacts on the local population and its development perspectives. The third part focuses on the uplands of Northern Vietnam. The effects of cyclones, heavy rains, floods, flash floods, and landslides in the Van Chan Mountains are studied to compare the biophysical and socioeconomic impacts. Part four makes policy recommendations in building resilient landscapes and green cities, and discusses the potential implications of findings for practice in Vietnam. The book addresses a wide array of researchers, geography and economics students, consultants and decision makers interested in the actual status and the likely developments on the physical, socioeconomic and mitigation and adaptation attitudes and policies of climate change associated effects.


Produktdetails
Springer Climate
Artikelnr. des Verlages: 978-3-319-94916-1
1st ed. 2019
Erscheinungstermin: 21. August 2018
Englisch
Abmessung: 241mm x 160mm x 17mm
Gewicht: 458g
ISBN-13: 9783319949161
ISBN-10: 3319949160
Artikelnr.: 52674140
Part 1. Background.- Chapter 1. Human Ecology of Climate Change Hazards: Concepts, Literature Review and Methodology.- Chapter 2. Climate change associated hazards, impacts and vulnerability at regional level.- Part 2. Risks for nature and human in lowland.- Chapter 3. Climate Change Hazards and Migration along the Ky Anh coast.- Chapter 4. Gross Costs and Impact on Local Livelihood Capitals of Tropical Storms along the Ky Anh Coast.- Chapter 5. Climate change adaptation of local communities along heavily damaged coasts.- Part 3. Risks for nature and humans in upland.- Chapter 6. Impacts and damage of climate change hazards in the Van Chan Mountain.- Chapter 7. Comparing local and immigrant household preparedness for natural hazards in the Van Chan mountain.- Part 4. Policy implications.- Chapter 8. Building Resilient Landscapes and Green Cities along the Coast and in the Upland of Vietnam.