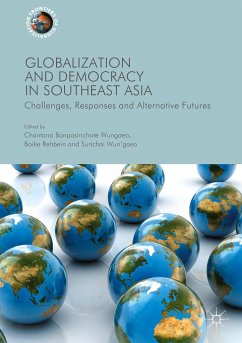 Andere Kunden interessierten sich
auch
für


Country studies are covered mostly by native Southeast Asian scholars who analyse recent developments as well as specific concerns that have arisen from political crises, citizen uprisings, ethnic identity politics, political reforms, social justice and inequality, and the persistence of the political elite. The collection highlights factors which have impacted the different regional and national paths taken such as: the legacy of the Cold War, rapid economic development and liberalization, external economic globalization, the important role of informal politics, powerful elites, and weak but emerging middle classes.

This book will be of interest to scholars and students of regional studies of Southeast Asia, Democracy, Sociology, Politics and Globalization Studies.


Produktdetails
Frontiers of Globalization
Artikelnr. des Verlages: 978-1-349-84673-3
1st ed. 2016
Seitenzahl: 332
Erscheinungstermin: 4. November 2020
Englisch
Abmessung: 210mm x 148mm x 17mm
Gewicht: 431g
ISBN-13: 9781349846733
ISBN-10: 1349846732
Artikelnr.: 54781116
Introduction; Chantana Banpasirichote Wungaeo, Boike Rehbein.- Part I: Democracy and Globalization.- 1. Democracy is Coming; Jan Nederveen Pieterse.- Part II: Southeast Asia.- 2. The Noisy Right and the Not-So-Silent Moderates: Democracy and All That in Malaysia; Abdul Rahman Embong.- 3. Singapore's Social Contract Trilemma; Andrew Yeo Zhi Jian, Yeoh Lam Keong and Au Yong Haw Yee.- 4. The Afterglow of Hun Sen's Cambodia? Socioeconomic Development, Political Change, and the Persistence of Inequalities; Daniel Bultmann and Sok Udom Deth.- 5. Democracy and Middle Classes in Laos; Boike Rehbein.- 6. Democratization in Vietnam's Post-__i M_i One-party Rule: Change from Within and Change from the Bottom to the Top; Minh Quang Pham and Hai Hong Nguyen.- 7. Emerging Democracy and Ethnic Identity Crisis in Myanmar; Zaw Aung.- 8. Asian Prosperity and Social Inequality: Reflections on Social-Ecological Transitions and Governance of Cities; Emma Porio.- 9. The Triangular Relations of Society, State, and Market in Indonesia: Globalization and Social Problems in Indonesia; Francisia Seda.- Part III: Focus on Thailand.- 10. Thailand's Political Crisis: The Perplexities of Democracy and Society; Chantana Banpasirichote Wungaeo.- 11. Can Deliberative Democracy be an Alternative for the Twenty-first Century? A Case Study of Thailand; Surangrut Jumnianpol and Nithi Nuangjamnong.- 12. Online Social Surveillance and Cyber-witch Hunting in Post-2014 Coup Thailand; Pirongrong Ramasoota.- 13. Conclusion; Chantana Banpasirichote Wungaeo.