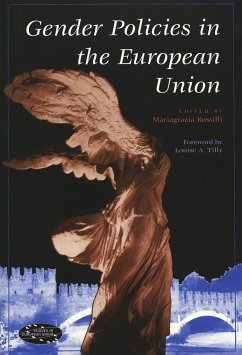 Produktdetails
Studies in European Union 1
Artikelnr. des Verlages: 64508
2000.
Seitenzahl: 274
Erscheinungstermin: 15. Juni 2000
Englisch
Abmessung: 225mm x 150mm x 14mm
Gewicht: 380g
ISBN-13: 9780820445083
ISBN-10: 0820445088
Artikelnr.: 24546751
Contents: Louise A. Tilly: Foreword - Mariagrazia Rossilli: Introduction: The European Union's Gender Policies - Ilona Ostner: From Equal Pay to Equal Employability: Four Decades of European Gender Policies - Catherine Hoskyns: A Study of Four Action Programmes on Equal Opportunities - Eliane Vogel-Polsky: Parity Democracy - Law and Europe - Joni Lovenduski: Change in Women's Political Representation - Julia Adiba Sohrab: European Equality Legislation on Social Security - Francesca Bettio/Jill Rubery/Mark Smith: Gender, Flexibility, and New Employment Relations in the European Union - Myriam Bergamaschi: The Gender Perspective in the Policies of European Trade Unions - Jeanne Gregory: Sexual Harassment: The Impact of EU Law in the Member States - Eleonore Kofman/Rosemary Sales: The Implications of European Union Policies for Non-EU Migrant Women - Marjan Wijers: European Union Policies on Trafficking in Women.