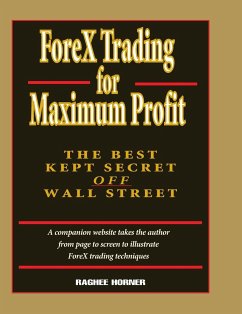 Andere Kunden interessierten sich
auch
für
Produktdetails
Artikelnr. des Verlages: 14671032000
Seitenzahl: 220
Erscheinungstermin: 13. Dezember 2004
Englisch
Abmessung: 241mm x 196mm x 16mm
Gewicht: 616g
ISBN-13: 9780471710325
ISBN-10: 0471710326
Artikelnr.: 13470892
Introduction. 1. Trading ForeX. 2. Getting Started. 3. History Repeats Itself. 4. The Major Players. 5. Prime Trading Times. 6. Reading ForeX Quotes. 7. Tools of the Trading Game. 8. How to Draw Trendlines. 9. The Difference Between Major and Minor Trendlines. 10. Fibonacci Levels. 11. Visual Tools. 12. Measuring Trends with CCI on Short
Term and Long
Term Charts. 13. Trading Versus Investing. 14. The Funnel Mindset. 15. The Difference Between Scalping, Momentum, Swing, and Position Trading. 16. Two Cornerstone Steps of Trade Setups. 17. "Prep Work". 18. Three Classic Tools to a Three
Step Setup. 19. Building a Trade. 20. Rewriting Trade management. 21. A Trade Going Astray. 22. Placing Your Orders. 23. The Five Stages of Loss. 24. Tips and Tricks of the Trade. 25. News "Discounting". 26. Charting the U.S. Dollar with Other Currencies. 27. Raghee's Rules for Successful Trading. 28. A Day in the Life of a ForeX Trader. 29. Conversation with Raghee Horner. 30. www.raghee.com Glossary. About the CD
Rom. Index.