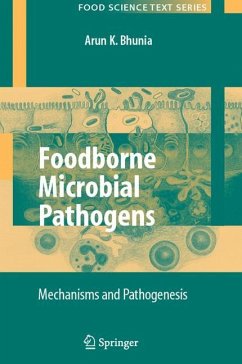 Produktdetails
Food Science Text Series
Verlag: Springer, Berlin
2008
Seitenzahl: 296
Erscheinungstermin: 25. November 2010
Englisch
Abmessung: 254mm x 178mm x 16mm
Gewicht: 560g
ISBN-13: 9781441925626
ISBN-10: 1441925627
Artikelnr.: 32169636
to Foodborne Pathogens.- Biology of Microbes Associated with Food.- Host Defense Against Foodborne Pathogens.- General Mechanism of Pathogenesis for Foodborne Pathogens.- Animal and Cell Culture Models to Study Foodborne Pathogen Interaction.- Staphylococcus aureus.- Bacillus cereus and Bacillus anthracis.- Clostridium botulinum and Clostridium perfringens.- Listeria monocytogenes.- Escherichia coli.- Salmonella enterica.- Campylobacter and Arcobacter.- Yersinia enterocolitica and Yersinia pestis.- Vibrio cholerae, V. parahaemolyticus, V. vulnificus.- Shigella species.
From the reviews: "A well-organized work covering a variety of foodborne microorganisms. ... Figures and tables are used well throughout the book to illustrate topics, and references are included at the end of each chapter. Readers without a thorough knowledge of immunology and microbiology will find this a useful resource, as the author provides enough information for them to understand the concepts presented. Summing Up: Recommended. General readers; lower-division undergraduates." (P. M. Watt, CHOICE, Vol. 45 (11), August, 2008)