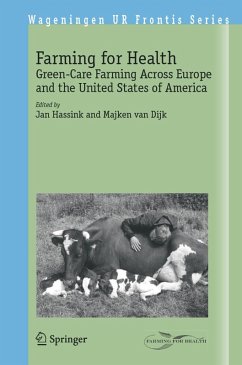 Produktdetails
Wageningen UR Frontis Series Vol.13
Verlag: Springer Netherlands
Artikelnr. des Verlages: 11601593
2006
Seitenzahl: 372
Erscheinungstermin: 30. Januar 2006
Englisch
Abmessung: 235mm x 155mm x 26mm
Gewicht: 699g
ISBN-13: 9781402045400
ISBN-10: 1402045409
Artikelnr.: 21952075
Preface.-
Thematic studies: 1. Theoretical models for research and program development in agriculture and health care: avoiding random acts of research; Paula Diane Relf. 2. Contributions of natural elements and areas in residential environments to human health and well-being; Sjerp de Vries. 3. Effects of interactions between humans and domesticated animals; Eddie A.M. Bokkers. 4. People-plant interaction: the physiological, psychological and sociological effects of plants on people; Marjolein Elings. 5. Social services as supplementary on-farm activity for mentally disabled people; Katja Vadnal and Katarina Kosmelj. 6. The lay beliefs about Farming for Health; Elsa Fjeldavli. 7. The contribution of care farms to landscapes of the future: a challenge of multifunctional agriculture; Thomas van Elsen, Amelie Günther and Bas Pedroli. 8. Long-term care in Europe: an introduction; Piet F. Driest.-
Country studies: 9. Green care in Norway: farms as a resource for the educational, health and social sector; Lisbeth Haugan, Ragnhild Nyland, Elsa Fjeldavli, Toril Meistad and Bjarne O. Braastad. 10. 'Nature and Health' in Sweden; Karin Abramsson and Carina Tenngart. 11. Farming for Health in Finland; Ulla Partanen, Taina Lilja, Sirpa Kurppa And Katriina Soini. 12. Care farms and care gardens: horticulture as therapy in the UK; Joe Sempik and Jo Aldridge. 13. Farming for Health in The Netherlands; Marjolein Elings and Jan Hassink. 14. Farming for Health - the situation in Flanders; Katrien Goris and Hilde Weckhuysen. 15. Farming for Health: aspects from Germany; Konrad Neuberger, Ingrid Stephan, Robert Hermanowski, Albrecht Flake, Franz-Joseph Post, Thomas van Elsen. 16. INTEGRATION: youth welfare and sustainable development in Switzerland; Peter Frey, Susanne Frutig, Urs Kaltenrieder and Jörg Wetzel. 17. Farming for Health in Austria: farms, horticultural therapy, animal-assisted therapy; Georg Wiesinger, Fritz Neuhauser and Maria Putz. 18. Farming for Health inSlovenia; Katja Vadnal. 19. Farming and social-care combinations in Poland; Ewa Pawelczyk. 20. Farming for Health in Italy; Francesco di Iacovo, Saverio Senni and Jeanette de Kneght. 21. Agriculture and health care: the care of plants and animals for therapy and rehabilitation in the United States; Paula Diane Relf.-
Conclusions: 22. Farming for Health across Europe: comparison between countries, and recommendations for a research and policy agenda; Jan Hassink and Majken van Dijk.