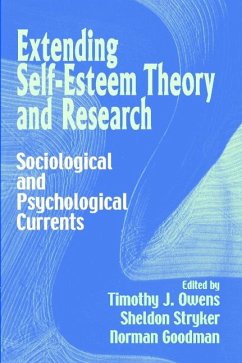 Andere Kunden interessierten sich
auch
für


Table of contents:
Part I. The Frame: 1. The future of self-esteem: an introduction Timothy J. Owens and Sheldon Stryker; 2. The self as social product and social force: Morris Rosenberg and the elaboration of a deceptively simple effect Gregory C. Elliot; Part II. Conceptual and Methodological Issues: 3. Theorizing the relationship between self-esteem and identity Laurie H. Ervin and Sheldon Stryker; 4. Measuring self-esteem: race, ethnicity, and gender considered Timothy J. Owens and Adam King; 5. The self-concept as a social force Viktor Gecas; 6. Self-certainty and self-esteem Ron Wright; Part III. Social and Life Course Contexts of Self-Esteem: 7. Self-esteem of children and adolescents David H. Demo; 8. Failure of the dream: notes for a research program on self-esteem and failed identity in adulthood Norman Goodman; 9. Self-esteem and work across the life course Carmi Schooler and Gary Oates; 10. Comfort with the self Roberta G. Simmons; Part IV. Self-Esteem and Social Inequalities: 11. Self-esteem and race Pamela Braboy Jackson and Sonia P. Lassiter; 12. Gender and self-esteem: narrative and efficacy in the negotiation of structural factors Anne Statham, Katherine Rhoades and Laura Wittman; 13. Bereavement and the loss of mattering Leonard I. Pearlin and Allen J. LeBlanc; 14. Self-esteem and social inequality L. Edward Wells; 15. Self-evaluation and stratification beliefs Matthew O. Hunt; Part V. Self-Esteem and Social Problems: 16. The science and politics of self-esteem: schools caught in the middle Martin V. Covington; 17. Self-esteem and deviant behavior: a critical review and theoretical integration Howard B. Kaplan; 18. Low self-esteem people: a collective portrait Morris Rosenberg and Timothy J. Owens.

An in-depth examination of self-esteem, this book looks carefully at the role of self-esteem in society and within and across various domains and contexts of the human experience. It serves as a comprehensive statement on self-esteem theory and research in the late twentieth century.

This work serves as a comprehensive statement on self-esteem theory and research in the late twentieth century.