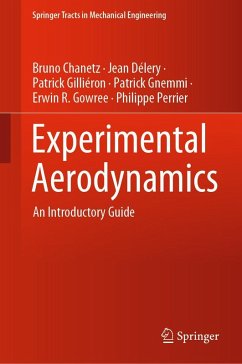 Andere Kunden interessierten sich
auch
für


The book can be used as a textbook for graduate courses in aerodynamics, typically offered to students of aerospace and mechanical engineering programs, and as a learning tool for professionals and engineers in the fields of aerodynamics, aeronautics and astronautics automobile.


Produktdetails
Springer Tracts in Mechanical Engineering
Artikelnr. des Verlages: 978-3-030-35561-6
1st ed. 2020
Seitenzahl: 336
Erscheinungstermin: 30. Januar 2020
Englisch
Abmessung: 241mm x 160mm x 24mm
Gewicht: 657g
ISBN-13: 9783030355616
ISBN-10: 3030355616
Artikelnr.: 57921564
The experimental approach in aerodynamic design.- Wind tunnels and other aerodynamic test facilities.- Subsonic wind tunnels.- Transonic wind.- Supersonic wind.- Hypersonic wind tunnels.- Flow visualisation techniques.- Measurement of aerodynamic forces and moments.- Characterisation of flow properties at the surface.- Intrusive measurement techniques.- Non-intrusive measurement techniques.- Laser spectroscopy and electron beam excitation.- Computer-Aided Wind Tunnel Test and Analysis.- Prospects and challenges for aerodynamics.