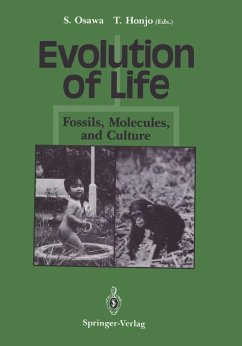 Andere Kunden interessierten sich
auch
für
E. coli and human beings, derive from a single ancestor that emerged some 4 billion years ago on Earth. This volume aims to discuss the motifs of organismic evolution from the viewpoints of biogeo-interactions and diversification of the genetic systems. Based on these fundamental understandings, the last section of this volume is devoted to human evolution that includes phylogeny of man as well as evolution of human culture. Such comprehensive discussion will give us a synthesized view of the evolution of life, that is undoubtedly one of the most important problems not only for science but also for human culture in general.
Produktdetails
Verlag: Springer / Springer, Berlin
Artikelnr. des Verlages: 978-4-431-70064-7
1991.
Seitenzahl: 480
Erscheinungstermin: 8. Mai 1991
Englisch
Abmessung: 241mm x 160mm x 31mm
Gewicht: 950g
ISBN-13: 9784431700647
ISBN-10: 4431700641
Artikelnr.: 29231763
1 Bio-Geo Interacting Systems.- 1.1 Fossils and Evolution.- 1.2 Biological Extinction in Terms of Overadaptation.- 1.3 Revolutions and Colonizations in the History of Life.- 2 Evolution of Biological Information.- 2.1 The Genomic Tag Model for the Origin of Protein Synthesis: Further Evidence from the Molecular Fossil Record.- 2.2 Neutral Evolution.- 2.3 Recent Evidence for Evolution of the Genetic Code.- 2.4 The Grammatical Rule of DNA Language: Messages in Palindromic Verses.- 2.5 Module Organization in Proteins and Exon Shuffling.- 2.6 Molecular Evolution and the Immunoglobulin Gene Superfamily.- 2.7 Evolution of the Multigene Family: A Case of Dynamically Evolving Genes at Major Histocompatibility Complex.- 2.8 Evolution of a Urea Cycle Enzyme to ?-Crystallin.- 2.9 Evolution of Repetitive Sequences.- 2.10 Evolution of Organellar Genomes.- 3 Diversification of Organisms.- 3.1 Mechanisms of Speciation: A Review.- 3.2 Comparing Life Histories.- 3.3 The Seething Genetics of Health and the Evolution of Sex.- 3.4 On the Evolution of Reproductive Isolation and the Origin of Species.- 3.5 The Evolution of Cells.- 3.6 Symbiosis in Evolution: Origins of Cell Motility.- 3.7 Archaebacteria Vs Metabacteria: Phylogenetic Tree of Organisms Indicated by Comparison of 5S Ribosomal RNA Sequences.- 3.8 Evolution of Archaebacteria: Phylogenetic Relationships Among Archaebacteria, Eubacteria, and Eukaryotes.- 3.9 Early Biochemical Evolution: Speculations on the Biochemistry of Primitive Life.- 4 Human Evolution.- 4.1 Man, Culture, and Environment.- 4.2 The Origin of the Genus Homo.- 4.3 Sequence Evolution of Mitochondrial DNA in Humans and Chimpanzees: Control Region and a Protein-Coding Region.- 4.4 Evolutionary Relationships of Human Populations at the Molecular Level.- 4.5 Human Genome and Human Evolution.- 4.6 Some Theoretical Aspects of the Origin of Cultural Transmission.- 5 Summary and Concluding Remarks.- 5 Summary and Concluding Remarks.