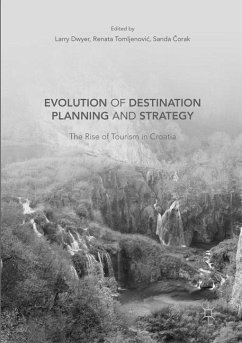 Andere Kunden interessierten sich
auch
für

The book explores the implications of policy decisions on product development and takes a theoretically sound approach to destination planning and problem-solving in Croatia. Its timely view of Croatian national tourism policy and the broader Adriatic/Mediterranean region makes this book of interest to all scholars, students, and practitioners engaged in various aspects of destination development planning and management.


Produktdetails
Artikelnr. des Verlages: 978-3-319-82536-6
Softcover reprint of the original 1st ed. 2017
Seitenzahl: 320
Erscheinungstermin: 11. Juli 2018
Englisch
Abmessung: 210mm x 148mm x 17mm
Gewicht: 420g
ISBN-13: 9783319825366
ISBN-10: 3319825364
Artikelnr.: 53575546
Introduction.- 1. Crafting a national tourism vision.- 2. Managing tourism development process in Croatia: Can EU accession help?- 3. Shaping destination identity.- 4. The influence of political factors in fashioning destination image.- 5. Managing tourism - challenges of DMO transformation.- 6. Tourism attraction system.- 7. Implementation of Tourism Satellite Account: Assessing the contribution of tourism to the Croatian economy.- 8. Abandoned Tourism Resorts in Croatia: The consequences of discordant spatial planning and tourism development policies.- 9. Sustainability issues and possibilities in management of tourism in protected areas in Croatia.- 10. Identifying trends in tourism demand in Croatia using longitudinal survey.- 11. Longitudinal assessment of the carrying capacity of a typical tourist island: Twenty years on.- 12. Gastronomy Tourism: Croatia a land of wine and plenty, or beyond pizza and grill!- 13. Tourism future - towards transformational tourism.