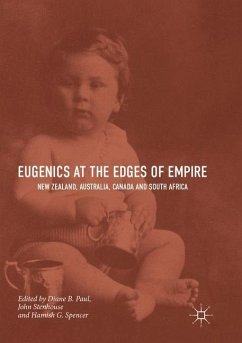 Andere Kunden interessierten sich
auch
für
Produktdetails
Artikelnr. des Verlages: 978-3-319-87850-8
Softcover reprint of the original 1st ed. 2018
Seitenzahl: 340
Erscheinungstermin: 31. August 2018
Englisch
Abmessung: 210mm x 148mm x 18mm
Gewicht: 445g
ISBN-13: 9783319878508
ISBN-10: 3319878506
Artikelnr.: 55126426
1. Introduction, Eugenics as a Transnational Subject: The British Dominions; Diane B. Paul, John Stenhouse and Hamish G. Spencer.- 2. "The Liberty of the Nation": The Limits of Illiberalism: Eugenics in Australia and New Zealand; Stephen Garton.- 3. Eugenics in Canada:Choice, Coercion and Context; Erika Dyck.- 4. The Nature of Eugenic Thought and Limits of Eugenic Practice in Inter-War Saskatchewan; Alexander Deighton.- 5. Eugenic Sterilization in New Zealand: The Story of the Mental Defectives Amendment Act of 1928; Hamish G. Spencer.- 6. Debating Clause 21: 'Eugenic Marriage' in New Zealand; Angela Wanhalla.- 7. Undesirable Bill's Undesirables Bill: William Pember Reeves and Early Eugenics in New Zealand; John Stenhouse.- 8. Thinking Dangerous Thoughts: Post-primary Education and Eugenics in Australia: 1905-1939; Ross L. Jones.- 9. 'Of Eugenic Interest'? Baby Shows before the Great War; Caroline Daley.- 10. Sir Robert Stout as Freethinker and Eugenics Enthusiast; Emma Gattey.- 11. Revisiting Three Eugenic Moments: 1903, 1928, 1937: The Disappointments and Hopes of Antipodean Progressives; Charlotte Macdonald.- 12. Truby King, Infant Welfare, and the Boundaries of Eugenics; Diane B. Paul.- 13. 'Aristocrats of Knowledge': Maori Anthropologists and the Survival of the 'Race'; Barbara Brookes.- 14. Eugenics and the Maintenance of White Supremacy in Modern South Africa; Susanne M. Klausen.

"Eugenics at the Edges of Empire is an essential contribution for researchers across humanities and social science disciplines interested in the history of eugenics." (Jennifer S. Kain, Historical Records of Australian Science, Vol. 31, 2020)
"Eugenics at the Edges of Empire: New Zealand, Australia, Canada and South Africa is a wide-ranging ... examination of eugenic thought across the British Empire. The broad contexts investigated and the interdisciplinary nature ... make it valuable not only to scholars of eugenics, but also the history of psychiatry, settler colonialism and gender, among others." (Effie Karageorgos, Australian Historical Studies, Vol. 51 (1), 2020)
"Eugenics at the Edges of Empire exemplifies the importance of postcolonial historiography and its role in shaping our understanding of the eugenics movement. ... Eugenics at the Edges of Empire is a judicious introduction to the subject and expands the reader's appreciation for the international scope of eugenics. ... recommended for courses in the fields of social history, postcolonial studies, the history of science, the history of medicine, international studies, and public policy studies." (Dennis L. Durst, Isis, Vol. 110 (4), December, 2019)
"A valuable and readable collection of essays which, taken as a whole, do much to advance discussion of the importance of locale in eugenics, and specifically, in this volume, its influence and impact in the settler colonies of the British Empire."
(Philippa Levine, Social History of Medicine, Vol. 32 (4), November, 2019)