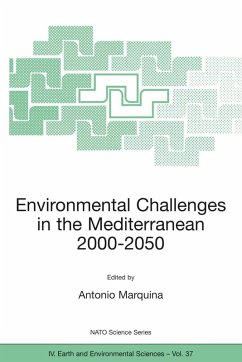 Produktdetails
Nato Science Series IV Earth and Environmental Sciences Vol.37
Verlag: Springer Netherlands
2004
Seitenzahl: 404
Erscheinungstermin: 29. Februar 2004
Englisch
Abmessung: 235mm x 155mm x 21mm
Gewicht: 620g
ISBN-13: 9781402019494
ISBN-10: 1402019491
Artikelnr.: 21326084
Foreword.- Section I Environment Security.- Environmental Security and Human Security.- Section II Climate Change, Scenarios and Modelling.- Solar Variability and Climate Change.- Qualitative-quantitative scenarios as a means to support sustainability-oriented regional planning.- Climate change and the occurrence of extremes: some implications for the Mediterranean Basin.- Regional IPCC Projections until 2100 in the Mediterranean Area.- Section III Desertification Impacts.- Desertification in the Maghreb: A Case Study of an Algerian High-Plain Steppe.- Prospects for Desertification Impacts for Egypt and Libya.- Prospective Desertification Trends In The Negev - Implications For Urban And Regional Development.- The Prospects of the Impact of Desertification on Turkey, Lebanon, Syria and Iraq.- Prospects for desertification impacts in Southern Europe.- Section IV Water Availability.- From Water Scarcity to Water Security in the Maghreb Region: The Moroccan Case.- Water Scarcity Prospects in Egypt 2000 - 2050.- Water worries in Jordan and Israel: What may the future hold?.- In the long term, will there be water shortage in Mediterranean Europe?.- Section V population Growth.- Implications of Population Decline for the European Union (2000-2050).- Population Growth in The Euro-Mediterranean Region.- Section VI Food Prospects.- Food Trade of the Mediterranean Countries in a World Context: Prospects to 2030.- Food Security Prospects in the Maghreb.- EU Agriculture and Common Agricultural Policy: Prospects for the 21st Century and Implications for Mediterranean Countries.- Section VII Urbanisation.- Urban Change in Cairo.- Implications of Urbanization for Turkey. The Case of Istanbul.- Section VIII Pollution.- The Pollution of the Mediterranean: Present State and Prospects.- Editor.