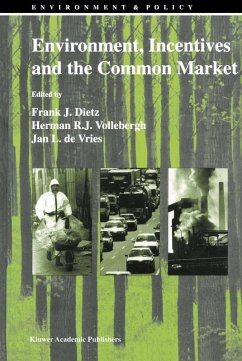 Andere Kunden interessierten sich
auch
für

Environment, Incentives and the Common Market has been written by members of the Study Group on the Environment and Economics of the National Environmental Forum, which includes economists and social scientists from all the major Dutch universities and research institutes. The book covers a wide range of topics on the use of taxation and tradeable permits in a variety of abatement policies. It concludes with comments on political feasibility.

Produktdetails
Environment & Policy .4
Verlag: Springer / Springer Netherlands
Artikelnr. des Verlages: 978-94-010-4054-9
Softcover reprint of the original 1st ed. 1995
Seitenzahl: 188
Erscheinungstermin: 14. Oktober 2012
Englisch
Abmessung: 240mm x 160mm x 10mm
Gewicht: 311g
ISBN-13: 9789401040549
ISBN-10: 9401040540
Artikelnr.: 37477649
Foreword. 1. Economic instruments: theory and complications; F.J. Dietz, et al. 2. Nutrient emissions form agriculture: an alternative for the current abatement policies in EU countries; F.J. Dietz, H. Heijnes. 3. Hybrid economic instruments for European carbon policy; P.R. Koutstaal, et al. 4. A European solvent tax to reduce VOC emissions; X. Olsthoorn, et al. 5. Economic instruments in EU waste policy; J. Krozer, et al. 6. Pricing instruments for transport policy; B. van Wee. 7. Tradeable permits for transito traffic through Austria; P.R. Koutstaal. 8. Prospects for European environmental tax reform; R.A. de Mooij, H.R.J. Vollebergh. 9. A comment on political feasibility; A. de Savornin Loman. List of contributors. Index.