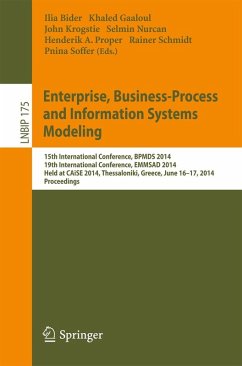 Andere Kunden interessierten sich
auch
für

The 20 full papers accepted for BPMDS were selected from 48 submissions and cover a wide spectrum of issues related to business process development, modeling, and support. They are grouped into topical sections on business process modeling as a human-driven process, representing the human perspective of business processes, supporting humans in business processes, variability-enabling process models, various models for various process perspectives, and BPMDS in practice.
The ten full and three short papers accepted for EMMSAD were chosen from 27 submissions and focus on exploring, evaluating, and enhancing modeling methods and methodologies for the analysis and design of information systems, enterprises, and business processes. They are grouped into sections on conceptual modeling, requirements modeling, business process modeling, goal and language action modeling, enterprise and business modeling, and new approaches.

Produktdetails
Lecture Notes in Business Information Processing 175
Verlag: Springer / Springer, Berlin
2014
Seitenzahl: 508
Erscheinungstermin: 26. Juni 2014
Englisch
Abmessung: 235mm x 155mm x 27mm
Gewicht: 762g
ISBN-13: 9783662437445
ISBN-10: 3662437449
Artikelnr.: 40849519
Part Business Process Modelling as a Human-Driven Process.- The Modeling Mind: Behavior Patterns in Process Modeling.- How Advanced Change Patterns Impact the Process of Process Modeling.- A Participative End-User Modeling Approach for Business Process Requirements.- Part Representing the Human Perspective of Business Processes.- Modeling the Resource Perspective of Business Process Compliance Rules with the Extended Compliance Rule Graph.- Addressing the Paradigmatic Limitation of Conventional Business Process Management Concepts by Proposing New Definitions.- Towards Process-Aware Cross-Organizational Human Resource Management.- Part Supporting Humans in Business Processes.- Extending the Social Network Interaction Model to Facilitate Collaboration through Service Provision.- A Framework for Synchronizing Human Behavior, Processes and Support Systems Using a Socio-technical Approach.- Enhancing Feasibility of Human-Driven Processes by Transforming Process Models to Process Checklists.- Part Variability-Enabling Process Models.- Fabric-Process Patterns: Towards a Methodology for Fabric-Process Design.- Comparing Business Process Variants Using Models and Event Logs.- Business Process Modeling: A Multi-perspectives Approach Integrating Variability.- Part Various Models for Various Process Perspectives.- A Model-Driven Approach for Accountability in Business Processes.- Modeling and Verifying Security Policies in Business Processes.- Supervised vs. Unsupervised Learning for Intentional Process Model Discovery.- Towards a Consistent Cross-Disciplinary Ontology for Business Process.- A Data-Centric Approach for Business Process Improvement Based on Decision Theory.- A Criteria Catalogue for Evaluating Business Process Pattern Approaches.- Part BPMDS in Practice.- Understanding the Factors That Influence the Adoption of BPM in Two Brazilian Public Organizations.- Using Fractal Process-Asset Model to Design the Process Architecture of an Enterprise: Experience Report.- Part Conceptual Modeling.- Support for Domain Constraints in the Validation of Ontologically Well-Founded Conceptual Models.- Category Structure of Language Types Common to Conceptual Modeling Languages.- Part Requirements Modeling.- Model Comprehension and Stakeholder Appropriateness of Security Risk-Oriented Modelling Languages.- Classification and Qualitative Analysis of Non-Functional Requirements Approaches.- Part Business Process Modeling.- Modeling Design-Time Variability in Business Processes: Existing Support and Deficiencies.- Part Goal and Language Action Modeling.- Linguistic Consistency of Goal Models.- Devising DEMO Guidelines and Process Patterns and Validating Comprehensiveness and Conciseness.- Part Enterprise and Business Modeling.- A Design Science Perspective on Business Strategy Modeling.- Automated Enterprise-Level Analysis of ArchiMate Models.- Part New Approaches (Short Papers).- A Conceptual Framework for Time Distortion Analysis in Method Components.- E3value Network Quality Properties.- Applicability of SSM and UML for Designing a Search Application for the British Broadcasting Corporation (BBC).