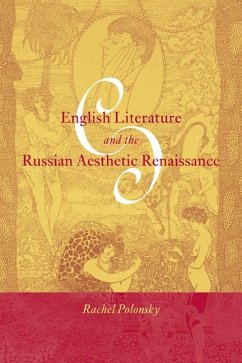 Andere Kunden interessierten sich
auch
für


The turn of the nineteenth century, a time of exceptional creativity in Russia, was also a time of great receptivity to foreign cultural influences. Among the most important of these were English poetry and aesthetic thought, which gave new impetus to the Russian imagination. This is the first study of the Russian reception of English literature from Romanticism to aestheticism, focusing particularly on the reception by Russian poets of Shelley, Ruskin, Pater, Frazer and Wilde. Framing this account is a pioneering exploration of the intellectual background to these influences in comparative scholarship, illuminating a common interest in myth, folklore, anthropology, and the origins of language. This book discusses the relationship between Russian conceptions of national identity, literary influence and the origins of comparative literary history.

Review quote:
"Polonsky clearly and skillfully explicates the complex process through which the Russian aesthetic renaissance passed to produce its Silver Age.... This thoughtful book provides much new information and will be useful to anyone interested in the phenomenon of cross-cultural literary influences."
Choice

"Rachel Polonsky's English Literature and the Russian Aesthetic Renaissance fills a place long unclaimed in the history of Russian symbolism and fills it superbly. ..a highly readable, persuasive, and exceptionally rich contribution to existing work on Russian symbolism."
Slavic Review

"...lively and very suggestive introduction...careful and insightful analysis of individual works...an extreemely valuable contribution to comparative studies."
Yearbook of Comparative anad General Literature

"...stimulating book...Polonsky has provided one of the most stimulating surveys of the 'aesthetic renaissance' overall."
Canadian Slavonic Papers

Table of contents:
List of illustrations; Acknowledgements; Notes on the text; Introduction; 1. Museum people; Part I. The Barbaric Renaissance: 2. Rites of spring; 3. Balmont's Shelley and the sacred books of the East; 4. Edgar Allan Poe and the magic of words; Part II. The Aesthetic Renaissance: 5. The renaissance of the renaissance; 6. English Aestheticism and Blok's apocalypse; 7. How important it is to be serious: Oscar Wilde's popularity; 8. Kuzmin's English style; Afterword; Notes; Bibliography; Index.