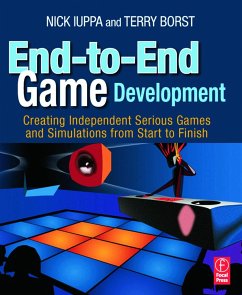 In order to build a successful game, you need to wear many hats. There are graphic artists, software engineers, designers, producers, marketers - all take part in the process at various (coordinated) stages, and the end result is hopefully a successful game. Veteran game producers and writers (Iuppa and Borst) cover all of these areas for you, with step by step instructions and checklists to get the work done.

The final section of the book offers a series of case studies from REAL indy games that have been developed and launched succesfully, and show exactly how the principles outlined in the book can be applied to real world products.

The book's associated author web site offers ancillary materials & references as well as serious game demos and presentations.