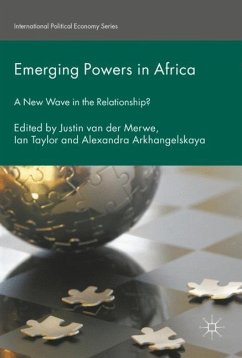 Produktdetails
International Political Economy Series
Artikelnr. des Verlages: 978-3-319-40735-7
1st ed. 2016
Erscheinungstermin: Januar 2017
Englisch
Abmessung: 216mm x 153mm x 20mm
Gewicht: 510g
ISBN-13: 9783319407357
ISBN-10: 331940735X
Artikelnr.: 45005556
Chapter 1. Seeing through the MIST: New contenders for the African space?; Justin van der Merwe.- Part I. Theoretical directions and new geographies: Space, time and accumulation.- Chapter 2. Theorising emerging powers in Africa within the Western-led system of accumulation; Justin van der Merwe.- Chapter 3. The BRICS in Africa: Agents of development?; Ian Taylor.- Chapter 4. Emerging powers in the Southern maritime space; Raymond Steenkamp Fonseca.- Part II. The BRICS in Africa.- Chapter 5. Conceptualising the dialectics of China's presence in Africa; Li Xing.- Chapter 6. Nehru's neoliberals: Draining or aiding Africa?; Ian Taylor, Justin van der Merwe and Nicole Dodd.- Chapter 7. New dynamics or old patterns? South-South cooperation between Brazil and Angola; Jurek Seifert.- Chapter 8. Guns and poseurs: Russia returns to Africa; Alexandra Arkhangelskaya and Nicole Dodd.- Chapter 9. South African corporations in BRICS: New waves of entrepreneurial thinking?; Nadine Wenzel.- Part III. Emerging powers beyond BRICS.- Chapter 10. South Korea in Africa: Exporting an "economic miracle" or "imperialist mimicry"?; Murad Shamilov.- Chapter 11. Turkey's political-economic engagement with Africa; Mehmet Ozkan.- Chapter 12. Indonesian engagements with Africa and the revitalised "Spirit of Bandung"; István Tarrósy.- Chapter 13. Conclusion: How new is the "new wave"?; Ian Taylor.