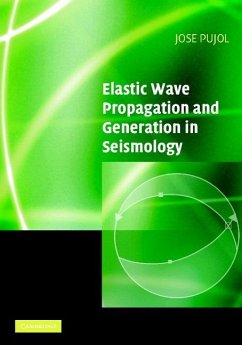 Table of contents:
Preface; 1. Introduction to tensors and dyadics; 2. Deformation: strain and rotation tensors; 3. The stress tensor; 4. Linear elasticity: the elastic wave equation; 5. Scalar and elastic waves in unbounded media; 6. Plane waves in simple models with plane boundaries; 7. Surface waves in simple models: dispersive waves; 8. Ray theory; 9. Seismic point sources in unbounded homogeneous media; 10. The earthquake source in unbounded media; 11. Anelastic attenuation; Appendix A. Introduction to the theory of distributions; Appendix B. The Hilbert transform; Appendix C. Green's function for the 3-D scalar wave equation; Appendix D. Proof of equation (9.5.12); Appendix E. Proof of equation (9.13.1); References; Index.

This text bridges the gap between introductory textbooks and advanced monographs by providing the necessary mathematical tools to tackle seismological problems, and demonstrating how to apply them. Complete with student exercises, this book will appeal to advanced undergraduate and graduate students, as well as researchers wishing to revisit the fundamentals.

A graduate-level textbook which takes a pedagogical and mathematical approach to seismology.