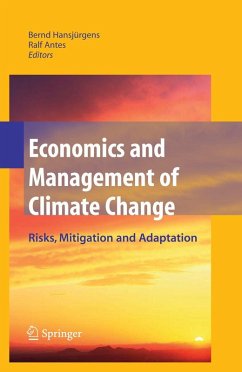 Andere Kunden interessierten sich
auch
für


Bringing together an international group of scholars from environmental economics, political science and business, this book describes, analyses and evaluates climate change risks and responses of societies and companies. The book contributes to the question of how climate change can be mitigated by discussing efficient and effective design of mitigation measures, in particular emissions trading and clean development mechanism (CDM). Placing special emphasis on the impact of climate change risks on business, the book investigates in which way selected sectors of the economy are affected and what measures they can undertake to adapt to climate change risks.


Produktdetails
Verlag: Springer / Springer, Berlin
Artikelnr. des Verlages: 978-1-4419-2650-0
Softcover reprint of hardcover 1st ed. 2008
Seitenzahl: 316
Erscheinungstermin: 29. Oktober 2010
Englisch
Abmessung: 235mm x 155mm x 17mm
Gewicht: 486g
ISBN-13: 9781441926500
ISBN-10: 144192650X
Artikelnr.: 32218183
Introduction: Climate change risks, mitigation and adaptation.- Introduction: Climate change risks, mitigation and adaptation.- Climate change risks and risk assessment Climate change risks and risk assessment.- Rising natural catastrophe losses - what is the role of climate change?.- Evaluation of risk in cost-benefit analysis of climate change.- A global climate change risk assessment of droughts and floods.- Effects of low water levels on the river Rhine on the inland waterway transport sector.- Spillover impacts of climate policy on energyintensive industry.- Risks, vulnerability, and participation: a layered management approach.- Mitigation: emissions trading and CDM.- Intensity targets: implications for the economic uncertainties of emissions trading.- Three types of impact from the European Emission Trading Scheme: direct cost, indirect cost and uncertainty.- Participants' treatment of allowance price uncertainty: how are risk-aversion and real option values related to each other?.- Climate change, sustainable development and risk: realizing a financial fund within the TEM model as an economic and business opportunity.- Current evaluation practice of the Clean Development Mechanism.- Sustainable development, the Clean Development Mechanism, and business accounting.- Risk management in the Clean Development Mechanism (CDM) - the potential of sustainability.- Economic and social risks associated with implementing CDM projects among SME - a case study of foundry industry in India.- Adaptation: corporate responses to climate change.- Developments in corporate responses to climate change within the past decade.- Impacts of climate change on the electricity sector and possible adaptation measures.- Modelling impacts of climate change policy uncertainty on power investment.- Reputational impact of businesses' compliance strategies under the EU Emissions Trading Scheme.- Prudence, profit and the perfect storm: climate change risk and fiduciary duty of directors.- Business risks and opportunities from climate change in large developing countries - a case study focusing on China.