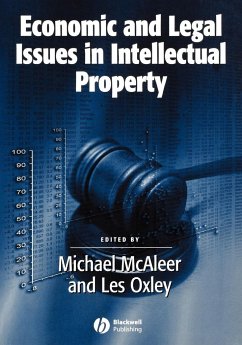 Andere Kunden interessierten sich
auch
für
Produktdetails
Verlag: John Wiley & Sons
Seitenzahl: 268
Erscheinungstermin: 10. Mai 2007
Englisch
Abmessung: 254mm x 178mm x 14mm
Gewicht: 511g
ISBN-13: 9781405160742
ISBN-10: 1405160748
Artikelnr.: 22749223
1. Intellectual property and economic incentives: Michael McAleerand Les Oxley.

2. Real options and patent damages: The legal treatment ofnon-infringing alternatives and incentives to innovate: JerryHausman and Gregory K. Leonard.

3. How to best ensure remuneration for creators in the marketfor music? Copyright and its alternatives: Stan J. Liebowitz andRichard Watt.

4. What's in a sign? Trademark law and the economictheory: Giovanni B. Ramello.

5. Copyright and artists: A view from cultural economics: RuthTowse.

6. Indigenous knowledge and intellectual property: Asustainability agenda: Dora Marinova and Margaret Raven.

7. University research, intellectual property rights andEuropean innovation systems: Bart Verspagen.

8. Beyond the hype: Intellectual property and the knowledgesociety/knowledge economy: K.C. Carlaw, L. Oxley, D.C. Thorns, M.Nuth and P. Walker.

9. How does country risk affect innovation? An application toforeign patents registered in the USA: Suhejla Hoti and MichaelMcAleer.

10. Intellectual property litigation activity in the USA:Suhejla Hoti, Michael McAleer and Daniel Slottje.