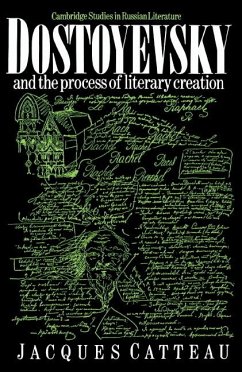 Andere Kunden interessierten sich
auch
für


Table of contents:
Preface to the English edition; List of abbreviations; General editor's note on transliteration and references; General introduction; Part I. The Creative Environment: Introduction; 1. Forms of creativity in embryo; 2. The heritage; 3. The heritage: literature; 4. The heritage: history and philosophy; 5. Illness; 6. Money; Part II. The Process of Creation: Introduction; 7. The writer at work; 8. The great dialogue: the news item; 9. The great dialogue: migrant images; 10. The play of dialogue; 11. The unity of thought in the novel; 12. The summit of creative interrogation: 'The Life of a Great Sinner'; 13. A Raw Youth: reasons for choice; 14. A Raw Youth: the appearance of the vision; 15. A Raw Youth: the human architecture; 16. A Raw Youth: the idea of the novel; 17. The composition of the novel in Dostoyevsky's work: choice of chronicle form; 18. Composition of the novel in A Raw Youth: chronicle and stories; Part III. Time and Space in the World of the Novels: Introduction; 19. The master of men and hours; 20. Chronology and temporality in The Idiot; 21. The ascending spiral; 22. Time of power and power of time; 23. The heavens of eternity; 24. The dream of space and the space of the real; 25. The inventory and the expressionist orchestration of scenery and lighting; 26. The semantics of colour; 27. The hero in space: sighting and seeing; Conclusion; Notes; Select bibliography; Index of names.

Jacques Catteau's much-acclaimed book on Dostoyevsky, which has already received three literary prizes (and one medical) in France, appears here in English for the first time. It is an original and detailed attempt to re-examine Dostoyevsky the artist, tracing the creative process from its beginnings in the notebooks to its expression in the novels, and at the same time analysing the structures of time and space, the role of colour, and other important features of the texts.

This book is an original and detailed attempt to re-examine Dostoyevsky the artist.