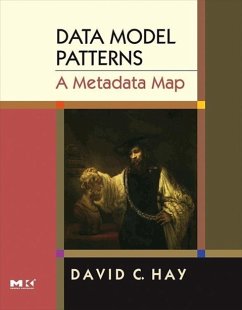 Data Model Patterns: A Metadata Map
not only presents a conceptual model of a metadata repository but also demonstrates a true enterprise data model of the information technology industry itself. It provides a step-by-step description of the model and is organized so that different readers can benefit from different parts.
It offers a view of the world being addressed by all the techniques, methods, and tools of the information processing industry (for example, object-oriented design, CASE, business process re-engineering, etc.) and presents several concepts that need to be addressed by such tools.
This book is pertinent, with companies and government agencies realizing that the data they use represent a significant corporate resource recognize the need to integrate data that has traditionally only been available from disparate sources. An important component of this integration is management of the "metadata" that describe, catalogue, and provide access to the various forms of underlying business data. The "metadata repository" is essential to keep track of the various physical components of these systems and their semantics.
The book is ideal for data management professionals, data modeling and design professionals, and data warehouse and database repository designers.
A comprehensive work based on the Zachman Framework for information architecture-encompassing the Business Owner's, Architect's, and Designer's views, for all columns (data, activities, locations, people, timing, and motivation)
Provides a step-by-step description of model and is organized so that different readers can benefit from different parts
Provides a view of the world being addressed by all the techniques, methods and tools of the information processing industry (for example, object-oriented design, CASE, business process re-engineering, etc.)
Presents many concepts that are not currently being addressed by such tools - and should be
Produktdetails
The Morgan Kaufmann Series in Data Management Systems
Verlag: Morgan Kaufmann
Seitenzahl: 406
Erscheinungstermin: April 2006
Englisch
Abmessung: 244mm x 200mm x 24mm
Gewicht: 1082g
ISBN-13: 9780120887989
ISBN-10: 0120887983
Artikelnr.: 20899309
Chapter 1: About Metadata Models
Chapter 2: Data
Chapter 3: Activities, Functions, and Processes
Chapter 4: Locations
Chapter 5: People and Organizations
Chapter 6: Events and Timing
Chapter 7: Motivation
Glossary
References and Further Reading
Index
About the Author
"A very ambitious undertaking, masterfully described. To the best of my knowledge, this is the first published version of the detailed models implied by the Zachman Framework. David Hay builds the models one step at a time, describing in each increment why the new entities were added, and how they related to the rest of the model. At least as important he sprinkles in lessons learned from his vast experience modeling in various other industries.?
- Dave McComb, President, Semantic Arts, and author of Semantics in Business Systems

"Dave Hay's latest book provides detailed metaschemas for the main concepts underlying the Zachman Framework for Enterprise Architecture, incorporating recent proposals from the Business Rules Group. By covering this vast territory in an easy-to-read style, Dave provides a valuable resource that should be of interest to data modeling professionals.? - Terry Halpin, Neumont University