Nicht lieferbar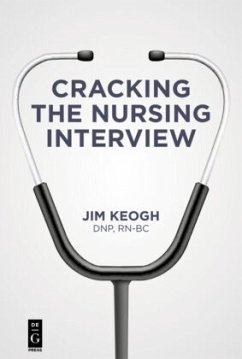 Cracking the Nursing Interview is designed to help you land your ideal nursing job. The book's unique two-part organization helps both first-time and experienced nurses through the job application process, the interviewing process, job training, and everything in between! In Part I you will learn the ins and outs of the interviewing process: how to get your application noticed, how to prepare for the interview, how to uncover hints in an interviewer's question, and more. Part II is an extensive review of what you need to know in order to ensure success in your interview. This section includes an overview of fundamental medications and techniques, providing a quick review for those about to go into an interview, and for those considering nursing as a profession, it is a great resource to know what you will need to learn.

Cracking the Nursing Interview also provides practice interview questions and solutions, so readers can go into their interviews confidently. In addition to interview tips and tricks, readers will learn how to sell their value and determine if they fit within a specific healthcare organization. Nurses will be given an overview of the unique nurse hiring process, a detailed walk-through of the various nursing careers available to them, and all the information necessary to identify and pursue their ideal career.

With a dual career in nursing and information technology, Jim Keogh, DNP, RN-BC is a nurse educator at New Jersey's largest hospital as well as an assistant professor at New York University and a faculty member at Saint Peter's University in Jersey City, New Jersey, as well as a former faculty member and chair of the e-commerce track of study at Columbia University.


Produktdetails
Seitenzahl: 310
Erscheinungstermin: 9. August 2017
Englisch
Abmessung: 228mm x 167mm x 17mm
Gewicht: 546g
ISBN-13: 9781501515040
ISBN-10: 1501515047
Artikelnr.: 47798876
Table of Contents Chapter 1 The Interview Process
This section offers an overview on questions are selected and how you will be evaluated. What happens when you get a question wrong? When should you start preparing, and how? What language should you use? All these questions and more are answered. Why? How Questions are Selected It's All Relative Frequently Asked Questions Chapter 2 Behind the Scenes
Learn what happens behind the scenes during your interview, how decisions really get made, who you interview with, and what they ask you. Defining job requirements Posting job openings Selecting resumes and candidates to interview Who is going to interview you and why Realities after the interview Background checks
Chapter 3 Special Situations
This section explains the process for experienced candidates, nursing supervisors, nurse managers, specialty nurses, and more. Learn what your interviewers are looking for and how much nursing knowledge you need to know. Experienced Candidates Nursing supervisors Nurse managers Specialty nurses Executive nursing management
Chapter 4 Before the Interview
In order to ace the interview, you first need to get an interview. This section describes what a nurse's resume should look like and what you should be doing well before your interview. Getting the Right Experience Building a Network Preparation Map
Chapter 5 Behavioral Preparation
Although most of a nursing interview will be technical, behavioral questions matter too. This section covers how to prepare for behavioral questions and how to give strong, structured responses. Interview Preparation Grid Know Your Technical situations Responding to Behavioral situations So, tell me about yourself
Chapter 6 Critical Thinking
This is a critical topic for an interview. In order to prove you're a fit, you need to be able to discuss the efficiency of your nursing practice. Prepare for common nursing scenarios Time Management Nursing judgment Delegation Customer service Interacting with families Conflict resolution Being part of the team Engaging with practitioners Chapter 7 The Offer and Beyond Handling Offers and Rejection Evaluating the Offer Negotiation On the Job Chapter 8 100 Nursing Interview Questions and Answers
This section discussion of the core knowledge and strategies to tackle interview questions, diving into exactly how you break down and solve it.