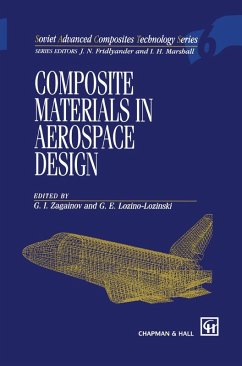 Andere Kunden interessierten sich
auch
für
Composite Materials in Aerospace Design is one of six titles in a coherent and definitive series dedicated to advanced composite materials research, development and usage in the former Soviet Union. Much of the information presented has been classified until recently. Thus each volume provides a unique insight into hitherto unknown research and development data.
This volume deals with the design philosophy and methodology used to produce primary and secondary load bearing composite structures with high life expectancies. The underlying theme is of extensive advanced composites research and development programs in aircraft and spacecraft applications, including the space orbital ship `BURAN'. The applicability of much of this work to other market sectors, such as automotive, shipbuilding and sporting goods is also examined in some detail.
The text starts by describing typical structures for which composites may be used in this area and some of the basic requirements from the materials being used. Design of components with composite materials is then discussed, with specific reference to case studies. This is followed by discussion and results from evaluation of finished structures and components, methods of joining with conventional materials and finally, non-destructive testing methods and forecasting of the performance of the composite materials and the structures which they form.
Composite Materials in Aerospace Design will be of interest to anyone researching or developing in composite materials science and technology, as well as design and aerospace engineers, both in industry and universities.
`This informative book forms a further addition to the `Soviet Advanced Composites Technology Series' which gives a unique account of the research, development and application of composite materials in the former Soviet Union. ...a considerable investment...'
Aeronautical Journal
`This informative book forms a further addition to the `Soviet Advanced Composites Technology Series' which gives a unique account of the research, development and application of composite materials in the former Soviet Union. ...a considerable investment...'
Aeronautical Journal