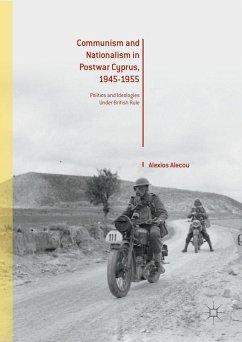 Andere Kunden interessierten sich
auch
für
Produktdetails
Artikelnr. des Verlages: 978-3-319-29208-3
1st ed. 2016
Seitenzahl: 200
Erscheinungstermin: 27. Juni 2016
Englisch
Abmessung: 216mm x 153mm x 16mm
ISBN-13: 9783319292083
ISBN-10: 3319292080
Artikelnr.: 44326997
.-Introduction.

.- 1. Class and political formation: Cypriot society before WWII.

.-2. Communism and Nationalism in Cyprus.

.-3. British methods of rule: Political liberties and the Constitutional Assembly.

.-4. External influences: Cyprus as a reflection of Greece.

.-5. Communism vs. Nationalism: fields of conflict.

.-6. Leading the anti-colonial movement.

.-7. Internationalization of Enosis.

.-8. Armed struggle: a one-way path?.

.-Conclusion.

---