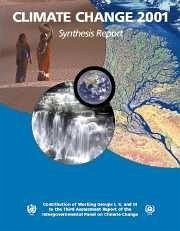 Table of contents:
Summary for policymakers; Question 1; Question 2; Question 3; Question 4; Question 5; Question 6; Question 7; Question 8; Question 9; Annexe A. Authors and expert reviewers; Annexe B. Glossary of terms; Annexe C. Acronyms, abbreviations, and units; Annexe D. Scientific, technical, and socio-economic questions selected by the panel.

This Synthesis Report provides a synthesis and integration of information contained within the Third Assessment Report and also draws upon all previously approved and accepted IPCC reports. It will be particularly valuable for students and researchers, and will form a standard reference for policy decisions in governments and industry worldwide.

Synthesis of IPCC Third Assessment Report valuable for students, researchers, and policy makers worldwide.
Produktdetails
Verlag: CAMBRIDGE
Seitenzahl: 408
Erscheinungstermin: März 2002
Englisch
Abmessung: 277mm x 218mm x 23mm
Gewicht: 1338g
ISBN-13: 9780521807708
ISBN-10: 0521807700
Artikelnr.: 26655188