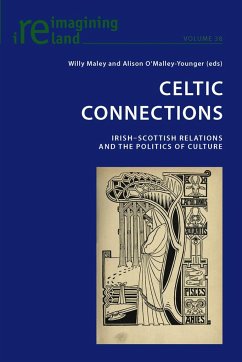 Andere Kunden interessierten sich
auch
für

The essays in this collection are distinct yet connected, and are designed to come together like the intricate cross-bars and precise patterning of the plaid to capture the complexity of the Celtic connections they address. They move from pre-history to postmodernism, from Gothic to Gaelic and from Macbeth to Marxism, incorporating gender and genre, and providing a detailed survey of responses to the Irish-Scottish paradigm.
Produktdetails
Reimagining Ireland .38
Artikelnr. des Verlages: 430214
Neuausg.
Erscheinungstermin: 28. November 2012
Englisch
Abmessung: 225mm x 150mm x 13mm
Gewicht: 370g
ISBN-13: 9783034302142
ISBN-10: 3034302142
Artikelnr.: 36781311
Contents: Willy Maley/Alison O'Malley-Younger: Introduction: Twilight to Tiger - John Strachan: Charles Robert Maturin, Roman Catholicism and Melmoth the Wanderer - Alison O'Malley-Younger: Doctors and Devils: Diagnosing Racial Degeneracy in Stevenson's Gothic Fiction - Lauren Clark: Second Cities of Empire: Celtic Consumerism Exhibited - Masaya Shimokusu: 'True poetic comrades': Mineko Matsumura and the Reception of Fiona Macleod in Japan - Willy Maley/Niall O'Gallagher: Coming Clean about the Red and the Green: Celtic Communism in MacLean, MacDiarmid and MacLean Again - Deirdre O'Byrne: 'My ways are my own': Female, Family and Farm in Hanna Bell's December Bride - Martyn Colebrook: 'There is something narcotic in watching a war unfold on your doorstep, knowing all the while it can't hurt you': Liam McIlvanney's All the Colours of the Town - Emily A. Ravenscroft/James Mollison: Macbeth in Maghaberry: Corrupting Power Relations with the Scottish Play in a Northern Irish Prison - Stefanie Lehner/Cillian McGrattan: The Confidence Game: Rebranding Irish and Scottish Cultures.