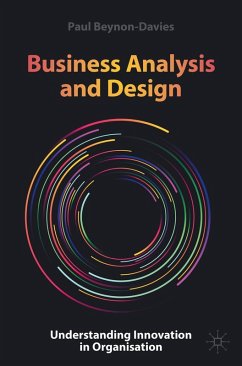 Andere Kunden interessierten sich
auch
für
Produktdetails
Artikelnr. des Verlages: 978-3-030-67961-3
1st ed. 2021
Seitenzahl: 440
Erscheinungstermin: 6. Mai 2021
Englisch
Abmessung: 235mm x 155mm x 23mm
Gewicht: 670g
ISBN-13: 9783030679613
ISBN-10: 3030679616
Artikelnr.: 60772053
1. Introduction: making sense of business
This chapter introduces the idea that design thinking is important to both making sense of and resolving many contemporary problems of organisation, within the private, public and voluntary sectors. The chapter begins by considering the difficulties of breaking with conventional ways of thinking and locates business analysis and business design within what has become known as design science. It then explains the nature of design science and how it differs from natural and social science. To help apply design science as it is applicable to business the chapter also examines the nature of design theory and design artefacts.
2. Signs, Patterns and Systems This chapter covers the fundamental design theory underlying the business design approach described in the book. At a very high-level we define business analysis and design as making sense of business - or organisation more generally. But to make sense we need concepts and within this book we utilise three inter-related concepts to form our design theory: signs, patterns and systems. These concepts are used to build models of a particular domain of organisation - as it currently is, or as we would like it to be. We argue that modelling in such a manner is the only effective way of dealing with the increasing complexity of organisation evident in the modern world. The chapter ends by setting a business game which the reader is taken through to understand the basis of the design theory imparted.