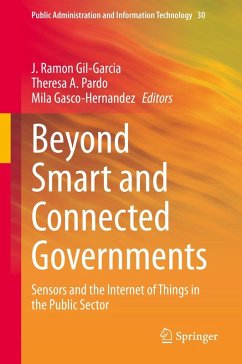 Andere Kunden interessierten sich
auch
für


This volume adds to the literature by presenting sound theories and concepts for understanding the opportunities and challenges governments face when seeking to improve public services and government operations through the use of IoT. It also includes innovative methodologies for building understanding of the potential of a smart and connected government. In addition, the book offers relevant case studies and practical recommendations for the development, management, and evaluation of public policies and government programs.


Produktdetails
Public Administration and Information Technology 30
Artikelnr. des Verlages: 978-3-030-37463-1
1st ed. 2020
Seitenzahl: 240
Erscheinungstermin: 7. März 2020
Englisch
Abmessung: 241mm x 160mm x 19mm
Gewicht: 528g
ISBN-13: 9783030374631
ISBN-10: 3030374637
Artikelnr.: 58134774
Chapter 1. Internet of Things and the Public Sector.- Chapter 2. The Internet of Things in a smart society: how government policy can help seize opportunities and mitigate threats.- Chapter 3. Methodologies for a participatory design of IoT to deliver sustainable public services in 'smart cities'.- Chapter 4. Identifying Security Challenges in the IoT for the Public Sector: A Systematic Review.- Chapter 5. Using Blockchain Technology to Manage IoT Data for Smart City Initiatives: A Conceptual Framework and Initial Experiments based on Smart Contracts.- Chapter 6. Awareness and Smart City Implementations Sensing, Sensors, and the IoT in the Public Sector.- Chapter 7. Use of the Internet of Things in Public Governance for Law Enforcement and Inspection: The Case of Russia.- Chapter 8. The recognition of the new digital entrepreneurs in France: the case of the French Tech with the emergence of the Internet of Things.- Chapter 9. Citizen Participation in Smart Government: A Conceptual Model and Two IoT Case Studies.