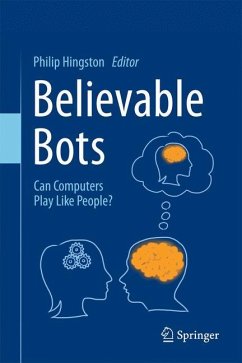 Andere Kunden interessierten sich
auch
für


The chapters in this book present the state of the art in research on and development of game bots, and they also look beyond the design aspects to address deep questions: Is a bot that plays like a person intelligent? Does it have emotions? Is it conscious? The topic is inherently interdisciplinary, and the work draws from research and practice in many fields, such as design, creativity, entertainment, and graphics; learning, psychology, and sociology; artificial intelligence, embodiment, agents, machine learning, robotics, human-computer interaction, and artificial life; cognition and neuroscience; and evolutionary computing. The contributing authors are among the leading researchers and developers in this field, and most of the examples and case studies involve analysis of commercial products.

The book will be of value to graduate students and academic researchers in artificial intelligence, and to engineers charged with the design of entertaining games.


Produktdetails
Verlag: Springer / Springer, Berlin
2012
Seitenzahl: 328
Erscheinungstermin: 9. November 2014
Englisch
Abmessung: 235mm x 155mm x 17mm
Gewicht: 499g
ISBN-13: 9783642445958
ISBN-10: 3642445950
Artikelnr.: 41727813
Chap. 1 Rethinking the Human-Agent Relationship: Which Social Cues Do Interactive Agents Really Need to Have?.- Chap. 2 Believability Through Psychosocial Behaviour: Creating Bots That Are More Engaging and Entertaining.- Chap. 3 Actor Bots.- Chap. 4 Embodied Conversational Agent Avatars in Virtual Worlds.- Chap. 5 Human-Like Combat Behaviour via Multiobjective Neuroevolution.- Chap. 6 Believable Bot Navigation via Playback of Human Traces.- Chap. 7 A Machine Consciousness Approach to the Design of Human-Like Bots.- Chap. 8 ConsScale FPS: Cognitive Integration for Improved Believability in Computer Game Bots.- Chap. 9 Assessing Believability.- Chap. 10 Making Diplomacy Bots Individual.- Chap. 11 Towards Imitation of Human Driving Style in Car Racing Games.