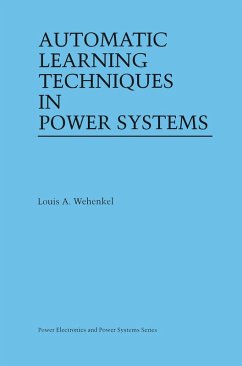 Andere Kunden interessierten sich
auch
für

Automatic Learning Techniques in Power Systems is dedicated to the practical application of automatic learning to power systems. Power systems to which automatic learning can be applied are screened and the complementary aspects of automatic learning, with respect to analytical methods and numerical simulation, are investigated.
This book presents a representative subset of automatic learning methods - basic and more sophisticated ones - available from statistics (both classical and modern), and from artificial intelligence (both hard and soft computing). The text also discusses appropriate methodologies for combining these methods to make the best use of available data in the context of real-life problems.
Automatic Learning Techniques in Power Systems is a useful reference source for professionals and researchers developing automatic learning systems in the electrical power field.
Produktdetails
Power Electronics and Power Systems
Verlag: Springer US / Springer, Berlin
Softcover reprint of the original 1st ed. 1998
Seitenzahl: 316
Erscheinungstermin: 14. Oktober 2012
Englisch
Abmessung: 235mm x 155mm x 17mm
Gewicht: 486g
ISBN-13: 9781461374893
ISBN-10: 1461374898
Artikelnr.: 39160178
List of Figures. List of Tables. Preface. 1. Introduction. Part I: Automatic Learning Methods. 2. Automatic Learning is Searching a Model Space. 3. Statistical Methods. 4. Artificial Neural Networks. 5. Machine Learning. 6. Auxiliary Tools and Hybrid Techniques. Part II: Application of Automatic Learning to Security Assessment. 7. Framework for Applying Automatic Learning to DSA. 8. Overview of Security Problems. 9. Security Information Data Bases. 10. A Sample of Real-Life Applications. 11. Added Value of Automatic Learning. 12. Future Orientations. Part III: Automatic Learning Applications in Power Systems. 13. Overview of Applications by Type. References. Index. Glossary.