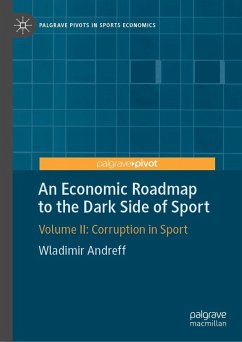 The book is divided into three volumes. Volume II presents a variety of corruption facts in different sports, in different countries and continents in order to exhibit how much corrupt sport is globalised. Some changes in governance are suggested that may pave the way to more effective combat against corruption in sports.

Volumes I and III (available separately) address Sport Manipulations and Economic Crime in Sport, respectively.

This book will be of interest to students, researchers and journalists in sports science, sports management and sports economics.


Produktdetails
Palgrave Pivots in Sports Economics
Artikelnr. des Verlages: 978-3-030-28478-7
1st ed. 2019
Seitenzahl: 108
Erscheinungstermin: 1. Oktober 2019
Englisch
Abmessung: 216mm x 153mm x 11mm
Gewicht: 276g
ISBN-13: 9783030284787
ISBN-10: 3030284786
Artikelnr.: 57078383
Chapter 1: Corruption in sport: insiders and outsiders1.1. Corruption from within sport1.1.1 On-the-spot petty corruption1.1.2 Barter corruption and its statistical detection1.2. Corruption with insiders and outsiders: point shavingChapter 2: Match-fixing2.1. Match-fixing in soccer2.1.1 Match fixing in the Big Five2.1.2 Match fixing in other European leagues2.1.3 Match fixing in non-European leagues2.1.4 Match fixing globalisation2.1.5 Match-fixing through club ownership2.2. The technology of a fix in soccer and detection at random2.3 Match-fixing in other sportsChapter 3: Corruption in sport governing bodies3.1. The Olympics and the International Olympic Committee3.2. The soccer World Cup and FIFA3.3. Corruption in other sport governing bodies3.4. Deficient governance and corruptionChapter 4: Economic analysis and anti-corruption policies 4.1. Corrupt sport and Beckerian standard economics of crime4.2. Current recipes to combat corruption in sport4.3. Improving governance of sport governing bodies?4.4. Toward a more radical reform of sport governing bodies Chapter 5: Conclusion
---