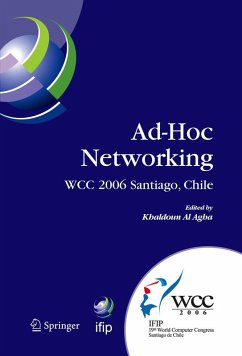 Andere Kunden interessierten sich
auch
für


Topics in this series include:
- The 4th International Conference on Theoretical Computer Science
- Education for the 21st Century- Impact of ICT and Digital Resources
- Mobile and Wireless Communication Networks
- Ad-Hoc Networking
- Network Control and Engineering for QoS, Security, and Mobility
- The Past and Future of Information Systems: 1976-2006 and Beyond
- History of Computing and Education
- Biologically Inspired Cooperative Computing
- Artificial Intelligence in Theory and Practice
- Applications in Artificial Intelligence
- Advanced Software Engineering: Expanding the Frontiers of Software
---
Position-based routing was originally developed for packet radio networks in the 1980s [6]. It received renewed interest during the last few years as a method for routing in mobile wireless ad hoc and sensor networks [1, 2, 4]. The general idea of is to select the next hop based on position information such that the packet is forwarded in the geographical direction of the destination. Position-based routing can be divided into two main components: the location service and position-based forwarding. The location service [5, 13] is used for mapping the unique identifier (for example an IP address) of a node to its geographical position. In mobile ad hoc networks, providing accurate location service for position based routing, with low communication overhead, appears to be more difficult task than routing itself [13]. In case of sensor networks, however, destination is a sink or base station whose position is made available to source sensors by flooding. Position-based forwarding is performed by a node to select one of its neighbors as the next hop the packet should be forwarded to. Usually, the following information is required for the forwarding decision: the node's own geographical position, the position of all neighbors within transmission range and the position of the destination. Based on this information, the forwarding node selects one of its neighbors as the next hop such that the packet makes progress toward the geographical position of the destination.
Produktdetails
IFIP Advances in Information and Communication Technology 212
Softcover reprint of hardcover 1st ed. 2006
Seitenzahl: 196
Erscheinungstermin: 29. November 2010
Englisch
Abmessung: 235mm x 155mm x 10mm
Gewicht: 305g
ISBN-13: 9781441941862
ISBN-10: 144194186X
Artikelnr.: 32110619
TCP over Geo-routing for High Mobility: Vehicle Grids and Airborne Swarms.- An Efficient QoS Routing Protocol for Mobile Ad-Hoc Networks.- On a QoS Intrusion Tolerant Routing protocol in Ad-hoc Networks.- Randomized Permutation Routing in Multi-hop Ad Hoc Networks with Unknown Destinations.- Beaconless Position Based Routing with Guaranteed Delivery for Wireless Ad-Hoc and Sensor Networks.- Frad-Hoc: A Framework to Routing AD-Hoc Networks.- AN AODV-Based Clustering and Routing Scheme for Mobile Ad Hoc Networks.- Adapting SLP To Ad-Hoc Environment.- A Design Framework for Wireless Sensor Networks.- IEEE 802.11 Throughput and Delay Analysis for mixed real time and normal data traffic.- Wireless Networks in industrial environments: State of the art and Issues.- DHT-based Functionalities Using Hypercubes.- ADMP: An Adaptive Multicast Routing Protocol for Mobile Ad Hoc Networks.