Nicht lieferbar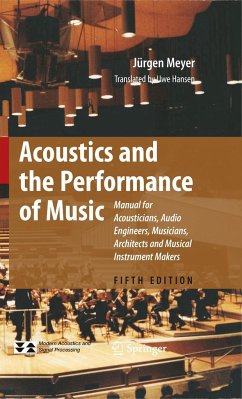 Andere Kunden interessierten sich
auch
für
---
This classic reference on musical acoustics and performance practice begins with a brief introduction to the fundamentals of acoustics and the generation of musical sounds. It then discusses the particulars of the sounds made by all the standard instruments in a modern orchestra as well as the human voice, the way in which the sounds made by these instruments are dispersed and how the room into which they are projected affects the sounds.

Produktdetails
Modern Acoustics and Signal Processing
5th ed. Softcover version of original hardcover edition 2009
Seitenzahl: 446
Englisch
Abmessung: 235mm x 155mm
Gewicht: 676g
ISBN-13: 9781441918604
ISBN-10: 1441918604
Artikelnr.: 32910513
to Acoustics.- Structure of Musical Sound.- Tonal Characteristics of Musical Instruments.- Directional Characteristics.- Foundations of Room Acoustics.- Acoustical Properties of Old and New Performance Spaces.- Seating Arrangement in the Concert Hall.- Acoustic Considerations for Instrumentation and Playing Technique.- Acoustical Problems in the Opera House.
From the reviews of the fifth edition:
"The present book is a translation of the fifth German edition published in 2004. The translator, Uwe Hansen, deserves praise for the quality of his writing in the English language. ... Given the material in this text, orchestral musicians and conductors can ... appreciate how to use any given acoustical space most advantageously and acousticians and architects can optimize the spaces in which musical groups perform. ... The book will certainly benefit all those involved with musical performance." (Leo Beranek, International Journal of Acoustics and Vibration, Vol. 14 (2), 2009)