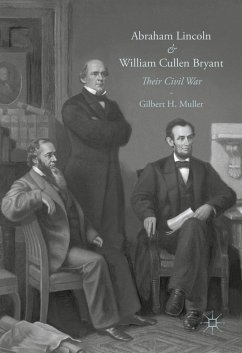 Andere Kunden interessierten sich
auch
für
Lincoln and Bryant is a watershed account of two Republicans fighting common enemies (and each other) during the Civil War era.


Produktdetails
Artikelnr. des Verlages: 978-3-319-31588-1
1st ed. 2017
Seitenzahl: 272
Erscheinungstermin: 30. Januar 2017
Englisch
Abmessung: 216mm x 153mm x 19mm
ISBN-13: 9783319315881
ISBN-10: 3319315889
Artikelnr.: 44570863
.Preface.-.Prologue: The Politician and the Poet.-.1.  Lincoln at Cooper Union: "An Eminent Citizen of the West".-.2.  The Campaign of 1860: "A Real Representative Man".-.3.  The Secession Winter: "The Madness of the South".-.4.  The Shock of War: "This Most Wicked and Wanton Rebellion".-.5.  The Heart of the Rebellion: "No More Playing at War".-.6.  The Fiery Trial: "What Does the President Wait For?".-.7.  The Road to Chattanooga: "How the War Drags On".-.8.  Dark Days: "A Shower of Blood".-.9.  The Union Vindicated: "Glory to the Lord of Hosts!".-.Epilogue: The President and the Poet.

---