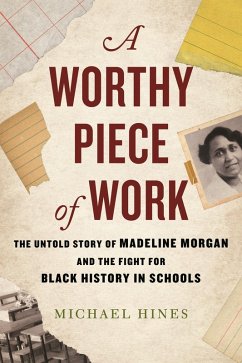 Andere Kunden interessierten sich
auch
für
[
A Worthy Piece of Work
] Makes a critical intervention in the historical scholarship on Black history by highlighting the transformative, but often less visible, pedagogical and curricular innovations of Black teachers.
Zoë Burkholder, History of Education Quarterly
A Worthy Piece of Work
eloquently centers women and recovers the crucial role Madeline Morgan played in writing and advancing Black history curriculum. This timely and critical study reminds us that progress and regress are unfortunately a common occurrence in the implementation of Black history curriculum.
Dionne Danns, author of
Crossing Segregated BoundariesA Worthy Piece of Work
is a must-read and poignantly illustrates the transformative power of teaching. It is a remarkably compelling study that appropriately situates the struggles and contributions of African American educators within the broader movement to educate youth about African American life, culture, and history at the height of the Jim Crow era. Hines s exploration and biography of the particular efforts of Madeline Morgan to advance African American history is poetically written, evidentiary rich, and timely. It is a book every educator and concerned citizen should read if they want to better understand the long struggle to teach and learn untold histories in America and how to speak truth to power despite the opposition.
Christopher M. Span, author of
From Cotton Field

to Schoolhouse: African American Education in Mississippi, 1862 1875
Every so often a book appears that speaks profoundly to the very moment within which we live. Historian Michael Hines s
A Worthy Piece of Work
is such a book. In the midst of the current culture wars in education, Hines illuminates the fascinating and unknown story of Madeline Morgan s quest to bring Black history into Chicago schools. Beautifully written and masterfully researched,
A Worthy Piece of Work
is a must-read for educators, activists, scholars, and individuals committed to understanding the importance of Black history for all children. This book is destined to be a classic.
Derrick P. Alridge, author of
The Educational Thought of W. E. B. Du Bois: An Intellectual History
During the era of World War II, schoolteacher and public intellectual Madeline Morgan was unquestionably a pivotal figure in Chicago s expansive Black history movement. In
A Worthy Piece of Work
, a creatively written and accessible intellectual and educational biography, Michael Hines reveals this by detailing Morgan s multifaceted life and work, pedagogical innovations, and social activism. This engaging book enhances our understanding of the early Black history movement launched by Carter G. Woodson, The Father of Black History.
Pero G. Dagbovie, author of
Reclaiming the Black Past: The Use and Misuse of African American History in the 21st Century