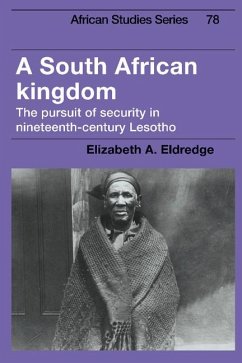 Table of contents:
1. Introduction; 2. Settlement and trade patterns before 1830; 3. Political consolidation and the rise of Moshoeshoe in the 1820s; 4. The land of the Basotho: the geographic extent of Moshoeshoe's authority, 1824-1864; 5. The European intrusion and the competition for land, 1834-1868; 6. Food and politics: feasts and famines; 7. The rise and decline of craft specialization; 8. The allocation of labor, 1830-1910; 9. The local exchange of goods and services, 1839-1910; 10. Women, reproduction, and production; 11. The Basotho and the rise of the regional European market, 1830-1910; 12. The colonial imposition and the failure of the local economy, 1871-1910; 13. Economy, politics, migrant labor and gender; 14. In pursuit of security; Appendix; Note on oral sources

The Basotho kingdom emerged in the dramatic environment of nineteenth-century South Africa. This book explores its transition from chiefdom to kingdom to the British colony of Basutoland.

A study of the Basotho and the transition from chiefdom to kingdom to British colony.